2013 Vintage Report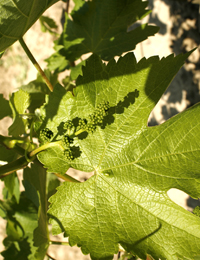 We've just spent four days in Bordeaux tasting our way through 150 wines to end up with a thorough understanding of what, why and how the 2013 wines came to be.
Weather Conditions
After 2011 and 2012, 2013 is another challenging vintage. Winter and spring were cold and wet, leading to delayed, uneven flowering (coulure) and so a reduced crop. July and August were hot and aside from a few storms, the heat of these months raised hopes that although the crop would be small, quality could be very high... Alas the end of September was rainy and humid meaning that most properties made the decision of when to pick balanced against the threat and spread of rot. Timing was critical, as was the speed at which the grapes could be picked, demanding the resources to call on armies of pickers - 695 at Mouton Rothschild, Clerc Milon and Armailhac, and 300 at Chateau Margaux. The human element was vital here as the task in the vineyards was to sort poor grapes from the bunches as they were picked off the vines before going into baskets - a massive and time-consuming task, followed by further manual and optical sorting at the Chateau. Such stringent selection means that overall, production is down by 50% on 2012, which was already small. In some cases, yields are truly tiny this year, with Pichon Lalande at 13hl/ha and Pontet Canet at 15hl/ha (2012: 34hl/ha), which are levels more commonly seen in Sauternes.
Quality & Style Of the Vintage
Thirty years ago, 2013 would have been an unmitigated disaster for red wines. These days at the top level, plots can be selected, vinified and blended to precision and in the drive for quality, fruit that doesn't make the grade is relegated to the second wine without a second thought, or sold off in bulk. The results of the rush to harvest are red wines that are lighter, in colour, fruit intensity, and alcohol; medium-bodied, relatively simple without too much density, or it has to be said, complexity. The saving grace of 2013 was the consistent heat of July and August (2 weeks of 30+ degrees) meaning that the compounds responsible for green, vegetal notes did not form, and the wines have a very pure primary fruit character, with crisp acidities and low alcohols (12.5-13 are typical with 13.5 degrees the highest noted by us). The best wines have incredibly silky tannins and will provide pleasurable drinking over the next three to fifteen years, while the worst are lacking in fruit, overwhelmed by oak, with dry and underripe tannins.
We heard some Chateaux equate their wines to the quality of 2008 or 2012, but in terms of structure and concentration, 2007 or 1997 are probably fairer counterparts. Rather than comparing to the recent famed vintages of Bordeaux like 2000, 2005, and 2009/10, 2013 could be considered an introduction to the style of a Chateau. Lunchtime claret - lighter, less concentrated and approachable much earlier.
Quality is hugely variable but there are a few "belles surprises" that will stand out for Bordeaux observers; especially with Pichon Lalande, which usually contains a relatively high proportion of Merlot but for the first time in history is 100% Cabernet, and is just a beautiful wine of considerable finesse. Ducru Beaucaillou, Calon Segur, Domaine de Chevalier and Eglise Clinet were other standout wines for us.
Sauternes/Barsac
An excellent year for sweet wines. After a difficult 2012, the botrytis so feared by red winemakers was greeted with delight here. In fact most of the top Chateaux are pleased as punch because quality of 2013 is high - the level of 2007 with 2001-like crispness and pure fruit character. Indeed, Yquem 2013 has been talked of in many `circles as the Wine of the Vintage.
Dry Whites
A very successful vintage for dry whites overall, harvested before weather turned. High aromatics, clean ripe fruit with good minerality and precision. Domaine de Chevalier again was exceptional.
Pricing & Timing
This promises to be a very early campaign with indications that we will have plenty of Chateaux releasing even this week, with Pontet Canet and Gazin already showing their hands. When it comes to pricing, this year, the usual mantra of "needs to be cheaper than available vintages" simply does not suffice. So far we have had a couple of releases merely close to or at the level of 2012, but for releases to work well in the UK, 2013 prices have to be significantly cheaper than any vintage in the market.
Aside from price, the other reasons to consider buying en primeur might be if you are building a vertical or following a particular Chateau year on year, to be able to order useful half-bottles, magnums or bigger formats usually not found when physical, or to commemorate a year or birth date.
If you have any questions, please ask a member of the team. We will be following the action from Bordeaux and news and prices will be added to our site as they come. In the meantime, tasting notes from the critics are being added, so check back regularly for updates.
full wine list
quick links