Vintage Report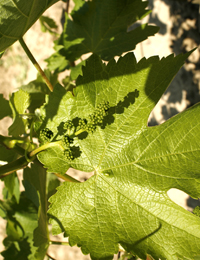 En Primeur or Primeurs is the process of buying wine before it is bottled, and is also known as Wine Futures. 2012 primeurs are the wines harvested in Bordeaux in September/October 2012, then aged in barrel at the Chateaux and offered onto the market in April/May/June 2013, by the case of 12 bottles. They will be bottled after approximately 18 months and will be shipped to the UK in Spring/Summer 2015 when they will be available for delivery or bonded storage.
Weather Conditions
In 2012 the weather was up and down. A wet Spring with twice the usual amount of rain meant small bunches and few berries, along with risk of mildew. Damp weather continued on and off into July, followed by a very dry and hot August and September. Many young vines shut down in the drought and ripening was slowed – old vines and vines planted on limestone and clay soils coped best. The Merlot was fully ripe and picked in good conditions but the threat of storms in October prompted many properties to harvest the Cabernet quickly and early.
Quality & Style of the Vintage
In 2012 the earlier-ripening Merlot was the star providing flesh and weight. The rushed Cabernet means that there are some wines with underripe flavours and often, pronounced tannins that seem out of balance against the medium weight.
Quality varies within each appellation so the name of the game is to the choose carefully. In our tastings, the appellations that impressed us with their overall success and complexity are Pomerol and Pessac-Leognan. Also the appellation of Margaux deserves an honourable mention - more consistent than usual and with the best displaying creamy, pure fruit and elegance.
It is not a top like vintage 2005, 2009 or 2010 but there are many medium-bodied, pleasurable wines that will drink beautifully over the next five to fifteen years, while we wait for those vintages to mature. There also are a few great wines. The best wines of 2012 are characterized by ripe fleshy fruit, medium weight, less concentration than 2009 or 2010 but complex high-toned aromatics, integrated silky tannins and a fresh finish.
This is a year where those with human resources to invest did best. Painstaking work was needed in the vineyard throughout the year, along with a large team of pickers to seize the moment (250 souls at Pontet Canet). In 2012 the optical sorting machines were used in force to sort berry by berry, while in the cellar, long gentle extraction and careful blending made the best wines. Many Chateaux have now installed more vats to vinify individual parcels separately (eg. Cheval Blanc, la Conseillante and also Mouton, where the number of vats has doubled from 26 to 52). Innovations abound with new clay amphorae at Pontet Canet and specially shaped vats at la Fleur de Bouard to allow more contact and more gentle pressure between juice and skins.
Sauternes/Barsac
A difficult year for sweet wines with a lack of botrytis. Yields were truly miniscule - an average of 2.5hl/ha (versus 35-40hl/ha for reds). The lack of botrytised fruit has meant that several of the most high-profile properties have elected not to produce a vintage at all (Yquem, Rieussec and Suduiraut). However it should not be written off as in the earlier-ripening commune of Barsac (to the north of Sauternes, where botrytis did take hold) there are a few lovely wines, namely Coutet, Doisy Daene and Doisy Vedrines.
Dry Whites
A very good to excellent vintage for dry whites with exotic ripe fruit, and the best have good minerality and focus. At Haut Brion, they see parallels with the very good 2005 vintage for dry whites. We can also expect a number of high quality, dry whites from the Sauternes region - Y d'Yquem, S de Suduiraut, R de Rieussec...
Prices and Timing
We will be offering the wines over the coming weeks starting very soon and all the signs point to an early campaign. We hope to have some nice surprises in pricing if the Chateaux wish to entice the consumers back. To have a chance of success in the jaded export markets, a reduction on 2011 is mandatory, particularly on the Left Bank. Bordeaux insiders have cited 2008 release levels as a target for prices, a year that worked well after the expensive and less-good 2007s. What looks certain is that we will have some significant releases before the end of April, and perhaps even a First Growth. (Admittedly 2008 release pricing on these seems a pipe dream but with a big reduction they will set a benchmark for the entire campaign).
Undoubtedly there needs to be a clear financial incentive - in other words, prices have to be favourable in comparison with available vintages of similar quality, for example 2008. Otherwise vintages like 2001 or 2004, or possibly 2006 may offer better value.
We will be following the action closely and our site will be updated with news as it happens. In the meantime, tasting notes from the critics are being added, so check back regularly and remember to add your wishlists and/or pre-orders.
full wine list
quick links