Buying From Albany Vintners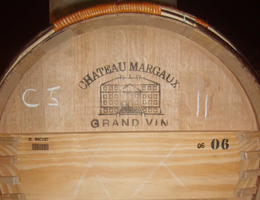 Albany Vintners has strong, direct relationships in Bordeaux, with the Chateaux and the most long-established négociants, meaning that we are ideally placed to secure allocations of many of the world's most desirable wines before they are on the open market.
We have over twenty years' experience in the fine wine market and have been buying En Primeur since the 1999 vintage, and at Albany Vintners since 2003.
We are a major stockholder with over £2million of our own stock and 10,000 cases physically available at our bonded warehouse, so you can buy from us in complete confidence.
Once primeurs have been bottled and shipped to the UK, we can also offer private client storage services, via our sister company Arc Reserves, for clients wishing to store wines in their own named accounts, in optimum conditions underground.
Ordering

Orders, wishlists and waiting lists can be placed online. Alternatively please contact sales@albanyvintners.com - for all enquiries.

Our minimum order for En Primeur wines is 1 case.
Bottling
Orders are taken and confirmed in standard size of 6x75 (4.5 litres) or 12x75cl (9 litres). Other bottle formats can be requested for a small extra charge, for example half-bottles for sweet wines, magnums, double magnums, imperials or bigger, to make a total of 9 litres. Special bottling formats are subject to confirmation from the Chateaux. For details, email us.
Payment
Payment of En Primeur orders is due within 30 days of invoicing. For payment by bank transfer, our account details are shown on the invoice. Alternatively we can accept payment by debit card – please call our Accounts Dept on 01223 849040.
Delivery
Our prices include free delivery from Bordeaux to our bonded warehouse in the summer of 2023. There are *no* additional handling costs to pay before the wines arrive in the UK. Our prices are listed "In Bond". This means that if you are buying for export, or if you will be keeping the wines under bond, there is no further tax to pay. We will be in touch to ask for you onward instructions when the wines start to arrive, and if you wish to take delivery duty paid (e.g. to your home address) you will be invoiced for delivery, duty & VAT when delivery is arranged.
Notes & Scores
Notes and scores from the following critics are used.
AG = Antonio Galloni - vinous.com Founder of Vinous.
NM = Neal Martin - vinous.com British critic now reviewing for Vinous after a previous stint at the Robert Parker's Wine Advocate.
JS = James Suckling - jamessuckling.com - American critic, covering Bordeaux for the Wine Spectator for 30 years, now with his own website.
WA = The Wine Advocate - robertparker.com This year's coverage will be provided by editor in chief Lisa Perrotti-Brown MW.
Dec = Decanter.com - The UK's leading wine magazine.
WS = Wine Spectator - The leading US publication
JD = Jeb Dunnuck - Described by Robert Parker as a younger version of himself, Jeb left the Wine Advocate in 2017 to set up on his own.
full wine list
quick links