En Primeur Bordeaux 2012
What is En Primeur?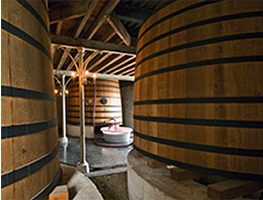 En Primeur or Primeurs is the process of buying wine before it is bottled, and is also known as Wine Futures. 2012 primeurs are the wines harvested in Bordeaux in September/October 2012, then aged in barrel at the Chateaux and offered onto the market in April/May/June 2013,by the case of 12 bottles. They will be bottled after approximately 18 months and will be available for delivery in Spring/Summer 2013
There are several reasons why buying En Primeur can make sense:
To buy wines at the best possible price. Opening prices are usually (and sometimes considerably) cheaper than prices once available on the open market.
To buy wine of perfect provenance, and to know the full history of the wine. Wines are shipped by us direct from Bordeaux to bonded storage in the UK.
To buy rare wines that are available in very limited quantities or which may not be available following release.
To choose a different bottling format for your wines, eg. half-bottles (especially for sweet wines), magnums, double magnums, imperials, etc, which are much harder to find later on.
It all happens over a two-month period where we wait for the various Chateaux to release. Some years it starts by end of April, and other years we have to wait for late-May for the campaign to really get rolling. But to make it as simple as possible, we have put in place a 4-part system, so that you can let us know what you might be looking for, and to help us satisfy your expectations.
Wishlist
Tell us which wines are of most interest to you. Do you want to receive updates on all releases or just a select few? If you love St Julien, or if you prefer to look at all wine sub-300/cs, let us know. You can put together a Wishlist of wines selected by you to follow throughout the campaign, and add notes about your criteria.
Pre-Orders
Many of the 'hot' wines sell out in Bordeaux very quickly so we often need to act quickly. By placing a pre-order you are committing to buy individual wines IF THE PRICE FALLS WITHIN OUR ESTIMATED RANGE. The incentive reward is that you secure wines at our first price, ahead of Wishlists and other buyers. We guarantee that we will always offer a more competitive price than the largest established UK merchants.
Waiting List
Frequently wines sell out fast but, by calling in a few favours in Bordeaux, we can (sometimes) find additional quantities. If a wine is sold out, let us know your interest so that we can tell you as soon as it comes back on our books.
The Relaxed Approach
You can also opt to receive our release updates and summaries by email.
We'll be updating the website regularly with news, opinions and recommendations from the critics, and then with releases as they come.
Allocations
Over recent years, some wines have become even more sought-after than ever and we already know that quantities will be limited on some wines. Where we are over-subscribed, we will allocate according to the following criteria:
Balanced pre-orders
Previous en primeur buyers (balanced orders)
Regular buyers throughout the year
En Primeur orders
En Primeur is always an exciting time once the pace gets going. We'll do our best to deliver news as it happens and in the meantime, let us know if and how we can help.
full wine list
quick links