Sweet & Sticky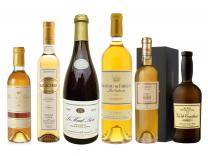 Moscato d'Asti, Vouvray, Vin de Constance, Sauternes & Barsac, Ch d'Yquem in Chateau mixed cases, Trockenbeerenauslese, Auslese, Spatlese....
Sweet wines can be more versatile than you might think! Served slightly chilled, they can be a good aperitif (especially Moscato d'Asti, and lighter styles). And of course, ending with a Sauternes, Port or Trockenbeerenauslese or Port is a brilliant finale to a good meal. They are also the perfect pairing for many savoury foods like pâtés and terrines over the festive season, and can match beautifully with cheeses.
A few highlights from our stocks:
Kracher's luscious TBA No. 5 Cuvee Nouvelle Vague 2019 (98 JS, JA WA),
Antinori's fascinating Muffato della Sala - a blend of 5 different grapes including Sauvignon Blanc, Semillon and Riesling) affected by noble rot. "Takes you on a trip from sweet to salty and finally, to sour."
The historic Vin de Constance - an incredible value.
Aged Sauternes, a deeper and richer style: Chateau de Fargues 2001 in half-bottles.
King of sweet wines, the great Chateau d'Yquem in Chateau mixed cases.
You can also view our Vintage Port Stocks here.
(Click on wines for tasting notes)
Italy
Austria
Germany
South Africa
ETA - 2024
Loire
Sauternes/Barsac
Chateau d'Yquem - Mixed Cases
---
For more information or to place an order, please get in touch.