'Classic Claret' from Leoville Barton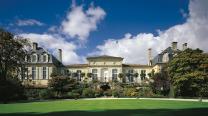 "Château Léoville Barton, which has been owned by the Barton family since the 19th century, epitomizes the best of classic Bordeaux: character, elegance and ageability. "
Wine Spectator

One of the great names of Bordeaux, Chateau Leoville Barton has a richly deserved reputation for producing consistently excellent Saint Julien at very reasonable prices. This is never truer than with their utterly charming deuxieme vin, Reserve de Leoville Barton, with its eye catching art deco label that once adorned the Grand Vin.

The fruit for Reserve de Leoville Barton comes from the estates younger vines and plots that just missed selection to the Grand Vin. As a result the quality in top vintages, with good even ripening, can far exceed the lowly price tag (from £20.83/btl in bond). We are delighted to offer 4 of the best recent vintages for the region (2014, 2015, 2016 & 2019) and especially so for the Chateau. We have also just received a number of other excellent wines in stock from the Barton family including the alluring Barton Family Collection Case containing 1 bottle each of Leoville Barton 2012, Langoa Barton 2015 and Mauvesin Barton 2014.

This is classic claret at a great price that will be drinking beautifully over the next decade.
Also available from the Barton family...