BURGUNDY 2017: FEVRE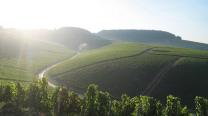 Domaine William Fevre remains one of the benchmark producers in this region. Fevre produces quintessential, classical Chablis grown in the special Kimmeridgian clay soil which gives the wines their wonderful trademark purity and minerality.
We are very pleased to offer the newly released 2017 Chablis from Domaine Fevre - an excellent vintage for Chablis, these '17 Fevre wines really impressed us when we tasted them this week - wonderfully fresh, mineral and precise with pure fruit.
"Fresh, tensile wines that are classical in style have been the watchword here for more than a decade....While the 2017s were still only partially formed when I tasted them, they're very promising, as my notes indicate. Director Didier Séguier and his team richly deserve all the accolades they've received for achieving such consistent quality.."
William Kelley, Wine Advocate
"As to the style of the 2017s, I would describe them as super-pure and concentrated, indeed they could be thought of as being like 2014 but not quite as fresh. Moreover I think that they will age extremely well"
Vintage
Name
Size
Cs
Bt
GBP Price
Per

Actions

scores
WA
VIN
BU
JR
DEC
2017
Chablis, Fevre, Domaine William
75cl
10
-
£150
CS (12)
[Add to shopping basket]
86-88
88
89-91
-
-
2017
Chablis Bougros Cotes de Bouguerots, Grand Cru, Fevre, Domaine William
75cl
5
-
£740
CS (12)
[Add to shopping basket]
92-94
92-94
91-94
-
-
2017
Chablis Les Clos, Grand Cru, Fevre, Domaine William
75cl
10
-
£840
CS (12)
[Add to shopping basket]
93-95
91-93
92-94
-
-
2017
Chablis Les Clos, Grand Cru, Fevre, Domaine William
150cl
-
3
£840
CS (6)
[Add to shopping basket]
93-95
91-93
92-94
-
-
2017
Chablis Les Clos, Grand Cru, Fevre, Domaine William
Double Magnum (3L)
-
1
£885
CS (3)
[Add to shopping basket]
93-95
91-93
92-94
-
-
2017
Chablis Les Preuses, Grand Cru, Fevre, Domaine William
75cl
1
6
£740
CS (12)
[Add to shopping basket]
92-95
93-95
92-94
-
-
2017
Chablis Montee de Tonnerre, 1er Cru, Fevre, Domaine William
75cl
4
-
£430
CS (12)
[Add to shopping basket]
89-91
91-93
90-93
-
-
2017
Chablis Vaillons, 1er Cru, Fevre, Domaine William
75cl
6
-
£310
CS (12)
[Add to shopping basket]
89-91
90-92
89-92
-
-
2017
Chablis Valmur, 1er Cru, Fevre, Domaine William
75cl
-
6
£760
CS (12)
[Add to shopping basket]
92-94
91-93
90-92
-
-
2017
Chablis Vaudesir, Grand Cru, Fevre, Domaine William
75cl
1
-
£670
CS (12)
[Add to shopping basket]
91-93
91-93
91-94
-
-
2017
Chablis Vaulorent, 1er Cru, Fevre, Domaine William
75cl
3
-
£480
CS (12)
[Add to shopping basket]
92-94
92-94
90-93
-
-