Neal Martin on Bordeaux 2014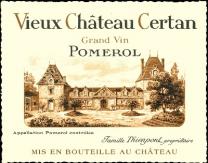 Neal Martin has published his Wine Advocate report (subscribers only) on the in bottle 2014s, highlights of which can be viewed below along with a selection of his top performers.
"a vintage to start eyeing up now, because savvy buyers will find plenty of good quality wines that will begin to increase in value".
In the report, Neal Martin also highlights a few under the radar wines that offer excellent value including wine-making genius Denis Durantou's Les Cruzelles.
"Denis Durantou is famed for L'Eglise-Clinet and rightly so, but he makes half-a-dozen superb wines, including this great Canon-Fronsac that consistently punches above its weight."
Please click here to see our full availability for Bordeaux 2014.
A Selection of Neal Martin's Top Rated 2014s
96pts Montrose - "What you have here is a very precise, multi-layered, almost sensual Montrose that is going to delight many for years to come. This is highly recommended—one of the finest Left Bank wines this vintage."

96pts Ducru Beaucaillou - "beautifully defined blackberry and raspberry fruit infused with cedar and pencil box aromas. Quintessentially Saint Julien."

96pts Vieux Chateau Certan - "There is tension here from start to finish, a sophisticated and cerebral Pomerol that transcends the growing season... A cellar without the 2014 Vieux-Château-Certan would be a great pity."

96pts Leoville Las Cases - "Where it really excels is on the finish: exquisite structure, very complex with enormous persistence that lingers for more than a minute. Surely the wine of the appellation, ditto one of the best Left Bank 2014s."


95pts Ausone -"One of the stars of the vintage, this may merit a higher score with bottle age. This is a great success."

94pts Gazin - "a great Pomerol from an estate predisposed these days to create sophisticated, classic wines."
Highlights of Neal Martin's Bordeaux 2014 Report
"First, 2014 Bordeaux is a very good to excellent vintage, however it is unequivocally not in the same realm as 2005, 2009 or 2010...Given market prices compared to other vintages, then they may represent attractive alternatives to their 2015 counterparts.
The leitmotifs of 2014 are freshness, terroir expression, an erring towards red rather than black fruit, crisp and occasionally quite edgy tannins and vivacity. These are wines destined to sing in the wine glass, wines less concerned with impressing critics like me, more intent in pleasing consumers like you (and me).
Let's drill down and single out some names and begin up in the northern reaches of the Médoc, because Saint Estèphe played a blinder, none more so than the outstanding 2014 Montrose. Got this wine in your cellar? Good. Because this is one of the few anomalies whereby the 2014 may surpass the 2015, without wishing to disparage the latter. It just gives you everything you could want this Second Growth.
Astute buyers should zone in on the likes of Haut-Batailley, Le Petit Mouton, Lynch Bages and a rejuvenated Lynch Moussas, not to mention a bang on the money Pédesclaux that is finally repaying for the huge investment made at the estate by Françoise and Jacky Lorenzetti. Then moving down the Médoc, predictably it is Ducru Beaucaillou and Léoville Las-Cases that stand out, in particular the latter that oozes class. Do not ignore a marvellous Léoville-Barton and its "sister" Langoa-Barton. In fact, the rule for 2014 is that if it has "Léoville" in the name then you cannot go wrong.
Trotanoy is the standout in Pomerol. Silver medal would actually go to a wine that I rhapsodized over during en primeur: Vieux-Château Certan. It is a beauty: succinct, complex, detailed and discretely intense. Alexandre Thienpont is obviously proud of his 2014 and rightly so... The 2014 Gazin is a lovely wine from a Pomerol stalwart that has stepped up a gear over the last decade.
Saint Emilion itself is the usual never-ending vista of highs and lows, although there is certainly a subtle shift in style taking place, evidenced by the wines and by discussing them with winemakers. The best come from the usual places crowned by Cheval Blanc and Ausone, yet snapping at their heels are outstanding 2014s by way of a gorgeous Pavie, a sublime Clos Fourtet, a regal Figeac and a lip-smacking Troplong Mondot.
The conclusion would be that 2014 is a vintage to start eyeing up now, because savvy buyers will find plenty of good quality wines that will begin to increase in value. Why? Well, the 2015 were priced more expensively because it was a better vintage—although at time of writing I have only tasted 2016s from vat. Likewise, having witnessed the growing season first-hand throughout the year including vineyard inspections just prior to harvest, I doubt that 2016 will be cheap and given the sentiment, more expensive comparative to 2015. This will inevitably put pressure on well-priced and available vintages, the most attractive pair being 2012 and 2014. And whilst on this point, do not forget 2008, which might surprise a few people when those ten-year retrospectives take place next year.
To conclude, 2014 is a Bordeaux vintage with plenty of attractive wines. Their freshness and vitality is a joy to behold. It is not a vintage that produced legendary wines, though one or two come very close. What they lack in substance they compensate with in tension and terroir expression. Saint Estèphe deserves special mention for producing a clutch of superb 2014s and it is probably here that I would be buying alongside the ever-reliable wines from Saint Julien. I doubt that the wines will shut down and so it would not surprise me if they just continue to drink well for 15 to 20 years, longer for the very best. They may well be seen in the same light as the 1988 Bordeaux that presaged the 1989 and 1990, though winemaking has changed so much since then that the 2014s are far superior."
Neal Martin, Wine Advocate, March 2017