Buy Wine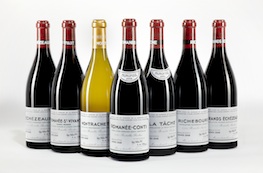 Whether you are buying investment grade wine or building a cellar to drink over time, it is vital to find a reliable merchant, not someone who simply wishes to close a deal!
We can give the whole picture:
Our views
Tasting notes and drinking windows
Reviews from the major critics
Background information on the property and its positioning in the market
We are stockholders with most wines on our list owned by Albany Vintners. We also offer wines for sale on behalf our private clients who wish to resell, where wines have been professionally stored.
All of our trading wines are stored in cool, constant conditions in our own private section at EHD London No.1 Bond, one of the UK's biggest bonded warehouses, and are only handled by our own experienced staff.
Most wines are already held in our warehouse though a small proportion will be lying with our suppliers pending shipment, or in transit to us.
Please note we have a minimum order of £300 excluding duty and VAT.
A useful guide for investors can be found at www.investinginwine.co.uk - published by the Wine & Spirit Trade Association (WSTA).
Wine Sourcing Service
With our network of suppliers we have access to top wines from around the world, including many producers that do not appear on our main list, and we make sure to be well-priced and accurate on timing. If there is a wine, producer or vintage, that you are looking for that does not appear here, please let us know at sales@albanyvintners.com.
Provenance
Just as important as price is excellent provenance. We buy directly from the biggest players in Bordeaux and we have been regular tasters at the top Chateaux for over ten years. Our contact list across Europe also means that we can offer a wide range of producers from every fine wine region, from professional storage. We only buy private stock that has been stored in good conditions.
We invest time in making sure that every case or odd bottle of wine is checked carefully on arrival by our own experienced team of dedicated warehouse staff who know the standards we expect. We are happy to provide details on any case on request and our clients can have complete confidence in the condition of stock that we sell.
It is worth pointing out that unlike many UK traders, we refuse to buy US stocks - even those that may have been labelled with import strips but never travelled to the US.
Order Online, or by Phone, Fax or Email
Orders can be placed online as well as by phone or email. Simply click on the shopping basket symbol next to your chosen wine and then select the desired quantity. You can view and edit the items in your shopping basket by clicking on the link to your shopping basket in the top right corner. Here you can change the quantities and remove wines from your basket before you place your order. Alternatively, orders and enquiries can be submitted by email to sales@albanyvintners.com. A member of our Sales team will then contact you to discuss the wine, its availability and to answer any other questions you may have on the wine or producer as well as drinking dates and market information.
En Primeur
We taste the new Bordeaux vintage every year in early April and offer the wines in May/June. For more information, please visit our dedicated guide.
Invoicing
We sell wines in Pounds Sterling (£), unless otherwise agreed.
It is a particularity of our in-house database system that 75cl wines are shown on the invoice as 12 bottles per case irrespective of packaging size, (150cl magnums are shown as 6 magnums per case, 37.5cl half-bottles shown as 24 per case). However please note packaging may sometimes be different - for example 6x75cl or 3x150mg or 12x37.5cl, Champagnes are usually packed 6x75cl and very occasionally we have individual wooden cases too. To avoid any confusion, our invoice always states the total number of bottles/units so please ask for the packaging size if this is of particular importance to you.
Collection or delivery may be arranged upon receipt of cleared funds.
Current VAT @ 20%
Duty Rates per 9 litres:
£26.78 – Still Wine
£34.30 – Sparkling wine & Champagne
£35.70 - Fortified Wines & Port
Payment
We accept all forms of standard international payment: UK Cheque, Debit Cards, Credit Cards (subject to a 2% handling fee and at our discretion) & Bank transfer. The quickest way to send payment is by electronic bank transfer, quoting your invoice number and account reference (our bank account details are detailed on the bottom of your invoice).
Shipping
UK Deliveries
We can arrange delivery to mainland UK, charge at cost, with a minimum charge for up to 10 cases. Please contact us for a quote.
Shipping - Europe & World Wide Deliveries
Every day we deal with contacts at shipping companies. We will be pleased to supply quotes and recommendations of reliable companies. For information and enquiries, please contact us at info@albanyvintners.com
full wine list
quick links