Krug Grande Cuvee Edition 171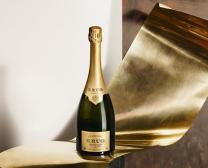 First made in 1843, Grande Cuvee was Joseph Krug's raison d'etre, establishing his house around his desire to craft the finest, richest Champagne. Krug consider Grande Cuvee the symphony; Krug from a single vintage is the soloist, both of equal quality, 'the finest', with tremendous complexity, depth and raciness. The blend is then given seven years in Krug's cellars where it gains depth, harmony, finesse and elegance before release.
Unique among Champagne houses, the decision to release a single vintage Champagne is made second, and only if quality and quantity allow (so the small but excellent quality 2012 harvest is destined for Grande Cuvée only). Unquestionably the finest, most expensive Champagne without a vintage on the label.
Champagne lovers know that Grande Cuvée with bottle age is very special indeed, equivalent in quality to a Krug vintage (and sometimes better). The rich, nutty, dry style has found many notable fans including Madonna, John le Carré, Sir Alec Guinness and Ernest Hemingway.
We are delighted to offer the recently released Edition 171 alongside the "precise, chiseled" Edition 170. Edition 171, just rated 99 points by James Suckling, is composed around the 2015 harvest and made from 11 different vintages, 131 different wines, and includes 42% from the House's reserve library going back to 2000.
---
"The tightness and tension of this is impressive considering the youngest wine from this is 2015 (hot and dry year), with some wines going back to 2000. Ginger and orange zest. Some creme brulee. It's medium-bodied with apple, pie crust and floral character. It's salty and zesty yet, at the same time, complex and gorgeous. Chamomile and other floral teas highlight everything. Turns rich and flavorful at the finish. Terrific release. Really takes off at the end."
99 | James Suckling
---
"Krug's NV Grande Cuvée 170ème Édition is based on the 2014 vintage, complemented by some 45% reserve wines dating back to 1998, with the house drawing on, among many others, 2013 for structure and 2012 and 2003 for generosity. Opening in the glass with aromas of pastry cream, dried fruits, pear, warm spices, freshly baked bread and vanilla pod, it's medium to full-bodied, pillowy and fine-boned, with excellent concentration, racy acids and a precise, chiseled profile. But if the latter adjective could be applied to the 2013-base 169ème édition equally felicitously, the 2014-base 170ème is more giving and less tightly wound out of the gates and will offer more demonstrative drinking young."
95 | William Kelley, Wine Advocate
---