Swartland Royalty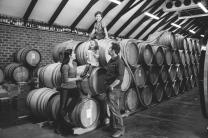 We are delighted to offer the latest releases from Mullineux alongside back vintages of their sought after single terroir wines. These are brilliant expressions of the region, made with minimal intervention and farmed organically.
"Mullineux epitomise elegant, terroir-driven, traditionally tailored wines that deliver nuanced scents and flavours...If you have not discovered Mullineux yet – what are you waiting for?" Neal Martin


Chris and Andrea Mullineux gained invaluable experience working in wineries in France, USA and South Africa before setting up the Mullineux winery in 2007 in the Swartland. Attracted by the Granite and Schist rich soils, old vine plantings and favourable climatic conditions, they realised the region's potential to produce truly great wines. Alongside Eben Sadie, Callie Louw and Adi Badenhorst they have become "Swartland Royalty", making the region one of the most exciting in the world, a hotbed for talented winemakers wanting to make the highest quality terroir-driven wines possible.
"If you are a Syrah lover and collector who has not tasted these wines, it is time to track some down for yourself to add to your cellar."
Wine Advocate
Mullineux's Old Vines White is a sommeliers favourite, found on many top wine lists as an inexpensive alternative for lovers of white Burgundy whilst the vibrant entry level Kloof Street Old Vine Chenin offers unbeatable value. The gorgeous Signtaure Syrah is the perfect wine for any barbecue, hard to resist now but capable of ageing for a couple of decades. It is the impressive rich, deep and complex single terroir wines that really showcase the full potential of the region though and are deserving of a place in any top cellar.
Mullineux Whites

Signature Syrah

From dry-farmed parcels of old-vine Syrah aged for 11 months in French oak, (15% new). Very expressive and floral, with both fresh and dried violets, black currant, ripe black cherry, blood orange, a hint of dry clay, green and black peppercorns. Very smooth tannins and a restrained mineral finish. Layered, elegant, precise and seductive.
"The 2020 Syrah is virtually crushed whole cluster (no carbonic) from mainly schist soils, around 70% of the blend. This is well-defined and focused on the nose, red berry fruit intermixed with light ember and garrigues-like aromas. The palate is medium-bodied with sappy red fruit, fine acidity and grip with a Cornas-like finish leaning more towards black than red fruit and cracked black pepper on the aftertaste. This will give 20 years' drinking pleasure."
92 | Neal Martin, Vinous
The granite-based soils are situated around the Paardeberg Mountain. At around 400 million years old, the Paardeberg's granite is largely decomposed with a sandy texture. Two metres below the surface a layer of clay and deep root system protect the wines from the region's warm and arid conditions. The canopies are therefore denser and offer more shade. The vines produce larger bunches and thinner skins. Stylistically the wines are elegant with a nervy acidity and stony aromatics. There is a wonderful floral lift to granite-based Syrahs. Chris and Andrea describe their Granite Syrah as "the most elegant and perfumed" in the series.
Schist Syrah
Mullineux's schist-based soils are situated on their home vineyard of Roundstone, on the Kasteelberg Mountain. Akin to the schist soils of Cote Rôtie, Faugeres and Priorat, the soils are shallow, rocky and well-drained. These friable brown slate soils produce vines with smaller and more open canopies, naturally small bunches and thick-skinned berries. The fruit profile tends to be darker than granite-based wines with a balance of black plum fruit and spicy aromatics.
"

Awe-inspiring stuff, the 2018 Schist Syrah begins with a compact frame and intoxicating floral expression with a dark red-fruited nature and complex rocky tones under gorgeous aromas of violets and white pepper. Medium-bodied, the palate is impeccably balanced, offering juicy acidity and fine-grained tannins that will undoubtedly integrate over time to be completely seamless. This delicious Syrah concludes with fantastic highlights of crunchy red fruit and game hints and is my top vote for Mullineux's soil-series Syrah this year. Bravo! I find myself pausing and smelling the wine in the glass rather than drinking it, which is a sign of world-class wine to me.

"
95 | Anthony Mueller, Wine Advocate
Iron Syrah

Red clay and iron-rich soils are based north and west of Malmesbury. Due to the fast-draining nature of these soils, vines often struggle to grow, and yields are even lower, producing the smallest berries of the three soils. However, this is balanced by the clay's water retention capacity, which protects the vines from water stress towards the end of summer. These wines are deeper in colour, concentrated with the most structured tannins and fullest body.
"

A beautiful, elegant red, with milled white pepper and fresh rosemary notes, which are abundantly fragrant on the nose but more subdued on the palate, plus pure accents of ripe black raspberry and wild strawberry fruit, orange peel and dark chocolate. Reveals fine, silky tannins, which emerge to firm the mouthwatering finish.

"
95 | Alison Napjus, Wine Spectator