Priced out of Burgundy?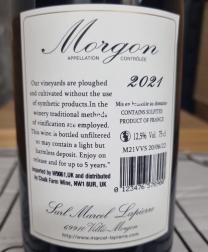 Morgon from Marcel Lapierre

Located just south of Burgundy, the granite soils of Morgon produce some of the finest Beaujolais, noted for their mineral elegance. A great alternative to red Burgundy stylistically and at a much more affordable price point.
Marcel Lapierre was a winemaker and pioneer of the natural wine movement in the Beaujolais region. Born in 1950, he began making wine with his father in the 1970s, and in the 80s, started to experiment with natural winemaking techniques, which at the time were not widely accepted in the region.
Lapierre believed in minimal intervention in the winemaking process, using only natural yeasts and avoiding the use of pesticides, herbicides, and other chemicals in the vineyard. He also eschewed the use of sulphur dioxide, commonly used as preservative, preferring to allow the wine to ferment and age naturally.
Lapierre's wines became known for their purity of fruit, bright acidity, and lively, expressive character. He was a leading figure in the natural wine movement and inspired many other winemakers to adopt similar techniques. Lapierre passed away in 2010, but his legacy lives on through his wines under the M&C Lapierre label, and the influence he had on the natural wine movement in the Beaujolais and beyond, and the Lapierre continue to be highly regarded by wine lovers and critics around the world.
Lapierre's sought-after Cuvée Camille comes from a small 2.6 hectare plot of old vines located within La Roche du Py, with shallow "roches pourries" soils and southwestern exposure. The grapes go through the same meticulous steps as the Morgon, except that the length of maceration in tapered wooden vats is longer. This cuvée was born when Camille Lapierre (Marcel's daughter and current co-winemaker) returned to the estate in 2013, and is also an hommage to Marcel's father, also Camille.
The 2021 Morgon (Sulphité) has a slightly brighter nose, more red fruit (Morello cherries and raspberry) commingling with blood orange. I find less of the oyster shell element juxtaposed against the Non-Sulphité iteration. The tannins are very fine here, with perfect acidity. It is fresh and brittle in texture, with so much vivacity towards the crunchy finish. Wonderful. Initially, I preferred the Non-Sulphité but upon further consideration, this seems to convey more amplitude. 94 - Neal Martin