Finca Dofi 2013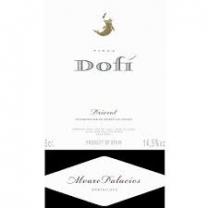 "Singular Unmistakeable Priorat"

Alvaro Palacios, one of the most important winemakers in Spain, is one of the names who put Priorat on the fine wine map.
Finca Dofi is a great introduction to his groundbreaking wines: a single-vineyard located in the villages of Gratallops, an appellation about 50 miles west of Barcelona. Finca Dofi lies at 300 metres above sea level facing north, with mineral-rich soil; the high iron content is evident by their red colour. Produced mostly from the Garnacha grape, with a touch of Carinena, and 1% of white grapes (Macabeo and Garnacha Blanc), this is a juicy wine with aromas of pure red fruit and blood orange, impressive elegance and a round, velvety texture.
A fraction of the price of Palacios' L'Ermita!

---
Finca Dofi

---
Opaque ruby. Sexy, high-pitched aromas of red fruit liqueur, potpourri and pipe tobacco are accented by an building spiciness. Juicy and precise on the palate, offering sweet, deeply concentrated raspberry and floral pastille flavors that show outstanding vivacity and thrust. Closes with emphatic floral and red berry character and harmonious tannins that add gentle grip.
2011 was not an easy act to follow as it produced what probably was the best Dofí to date, yet the 2013 Finca Dofí is as good or even better! The single-vineyard 2013 Finca Dofí, made since 2011 with Garnacha and perhaps 5% Cariñena (previously made with Cabernet Sauvignon), was fermented in oak vats with indigenous yeasts and matured in barriques for 16 months after malolactic. They have achieved a level of sophistication in the élevage of this wine because it is completely different from the wines of, say, 2005 (or 1995!) that were hard and full of tannins. This 2013 is nothing like that. Of course, there are tannins, but the texture is completely different, more akin to a Barolo with earthiness that is coated by ripe fruit to create a singular, unmistakable Priorat. Again, the best Dofí to date.
Opaque ruby. Sexy, high-pitched aromas of red fruit liqueur, potpourri and pipe tobacco are accented by an building spiciness. Juicy and precise on the palate, offering sweet, deeply concentrated raspberry and floral pastille flavors that show outstanding vivacity and thrust. Closes with emphatic floral and red berry character and harmonious tannins that add gentle grip. Drink 2022-2038. 94 points (Josh Raynolds)

'2011 was not an easy act to follow as it produced what probably was the best Dofí to date, yet the 2013 Finca Dofí is as good or even better! The single-vineyard 2013 Finca Dofí, made since 2011 with Garnacha and perhaps 5% Cariñena (previously made with Cabernet Sauvignon), was fermented in oak vats with indigenous yeasts and matured in barriques for 16 months after malolactic. They have achieved a level of sophistication in the élevage of this wine because it is completely different from the wines of, say, 2005 (or 1995!) that were hard and full of tannins. This 2013 is nothing like that. Of course, there are tannins, but the texture is completely different, more akin to a Barolo with earthiness that is coated by ripe fruit to create a singular, unmistakable Priorat. Again, the best Dofí to date.'
96 | Luis Gutierrez, Wine Advocate