I Sodi di San Niccolo 2018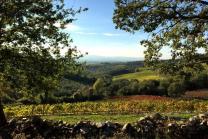 "Castellare's I Sodi di San Niccolò is the single most overlooked high-end wine in Tuscany today."
Antonio Galoni, Vinous
Castellare di Castellina was born from the union of 4 estates; Castellare, Caselle, San Niccolò and Le Case in the late 1970s. The aim was to produce the best possible wine from indigenous Tuscan varieties with guidance sought from the great Emile Peynaud.

The estate's flagship wine, I Sodi di San Niccolo, is one of the true icons of Chianti Classico, a seamless expression of Sangioveto (the antique name for Sangiovese) with a smaller part Malvasia Nera. With Tuscan wines going through a golden age for both quality and demand we are delighted to offer the latest vintage from this under the radar gem. Despite consistently excellent scores this still remains fantastic value for such a high-end cellar worthy wine.

"Sodi di San Niccolò is magnificent for the way it conveys depth and structure, but with tannins that are less forbidding than is typically the case. The 2018 is a gorgeous wine, and I say that having tasted every vintage all the way back to the beginning. "


Antonio Galoni, Vinous
The 2018 receives the same high 97 point score from Antonio Galloni as Tignanello and Ornellaia but is offered here at under half the price. Galloni describes the 2018 vintage as "the most elegant Sodi" he has ever tasted. Production is relatively small (around 5,000 cases) and back vintages are hard to find, making this a fine addition to any collection.
"The 2018 I Sodi di San Niccolò is the most elegant Sodi I have ever tasted, and I have tasted them all. Sodi can be quite the bruiser in its youth, as the tannins are often imposing, but the 2018 is impressive because there is more than enough fruit to balance things out. Dark cherry, plum, lavender, spice and gravel build in a Sodi endowed with mind-blowing purity and exceptional finesse. Superb!"
97 | Antonio Galloni, Vinous
Also available...