Vega Sicilia, Ribera del Duero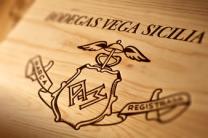 A selection of Spain's finest, including the flagship latest releases from Vega Sicilia, Spain's most iconic winery. Acclaimed since the 1920s, it was under winemaker Mariano Garcia in the sixties and seventies that Vega Sicilia cemented its reputation as Spain's greatest wine, and Ribera del Duero as one of the best wine regions in the country.
---
VEGA SICILIA, Ribera Del Duero
---
Unico
---
The emblematic Unico is aged for a minimum of ten years between barrel and bottle, one of the longest ageing processes in the world of fine wine, making Unico a wine of fabulous longevity.
"The 2012 Único is released 10 years after the harvest. They produced it with the grapes from 40 of the 210 hectares of vineyards they have, with a total of 55 separate plots and 19 different soils. It's mostly 95% Tinto Fino (Tempranillo) and 5% Cabernet Sauvignon grapes that are cooled down for 24 hours and then fermented in oak vats with indigenous yeasts. Malolactic fermentation was in stainless steel and the aging in 225-liter oak barrels and 20,000-liter oak vats for a long time as this was bottled in June 2018. 2012 is a concentrated year, warm and dry with some rain at the end of September that helped the end of the ripening process of healthy grapes with lots of color and ripe tannins. The wine has a ripe nose, with intoxicating notes of black fruit, fresh meat and blood, a spicy touch from the American oak and an earthy twist. It's a voluptuous and decadent vintage for Vega Sicilia, for those that favor years like 2006, a bit atypical, or 1999."
96 | Luis Gutierrez, Wine Advocate
---
Unico Reserva Especial
Amultivintage blend of Unico and testament to the Spanish tradition of blending.
---
Valbuena
Valbuena is considered Vega's Sicilia's purest expression of red wine from Tinto Fino (Tempranillo) with a dash of Merlot, and is aged for 5 years, hence the name.
"The result, for whatever reason, was nothing short of spectacular. The wine is perfumed, floral, expressive and balsamic like few vintages before. It doesn't feel like a 2017 at all; it is harmonious, and the tannins were fine. It's an amazing Valbuena that clearly transcends the character of the vintage. What I see here is that since 2010, the wine has a very high consistency. And in 2017 it excels."
96 | Luis Gutierrez, Wine Advocate
---
Alion
Alion is a more modern expression of Ribera del Duero.