WINE SPECTATOR #1 of 2019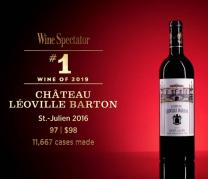 Chateau Leoville Barton has been on fine form of late and the 2016 vintage has just been crowned the Wine Spectator's number 1 in their top 100 wines of 2019. With a richly deserved reputation for delivering consistently excellent quality at a very reasonable price, recent vintages of this classic, elegant Saint Julien have really impressed.
Whilst it is now hard to find the 2016 vintage under £950/12, the stunning 2018 is still available at £758/12 and receives the the same high in bottle score (96-99) from the Wine Spectator. Do not overlook the fabulous 2017 (£654/12) which is "nudging" the quality of the 2016 or the "drop-dead gorgeous" 2015 at £700/12.

"Bordeaux remains about terroir and tradition. Château Léoville Barton, which has been owned by the Barton family since the 19th century, epitomizes the best of classic Bordeaux: character, elegance and ageability...Léoville Barton has always been one of the best values in blue-chip, ageworthy Bordeaux"
Wine Spectator
---