2016 ZIND-HUMBRECHT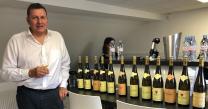 "2016 looks to be the best vintage ever for winemaker Olivier Humbrecht as the wines are a happy marriage of great concentration and precisely delineated flavors." James Suckling
We had the pleasure of welcoming the wonderfully erudite Olivier Humbrecht MW - once described by Robert Parker as "the greatest white winemaker on earth" - into our offices today to taste through his newly released 2016s. To say we were impressed is an understatement - the wines are beautifully elegant, singular, pure expressions of their particular terroirs and grape varieties and offer abundant value for money, considering the quality and production levels (just 800 bottles made of the Pinot Gris Vendange Tardive and Selection de Grains Nobles, less than usual)
Domaine Zind-Humbrecht
has been producing a range of wines from its own vineyards across the region for more than 50 years. Olivier is a champion of terroir and today the domaine is fully biodynamic. As
well as owning plots in grand cru sites Goldert, Hengst and Brand, the family also own the prime Clos St Urbain monopole vineyard situated within the celebrated Rangen site, the most southerly Grand Cru, considered the Montrachet of Alsace.
The several non-grand cru Clos vineyards are amongst the best holdings in Alsace
:
Hauserer, Clos Windsbuhl
(known for its refinement)
, and Jebsal
for the late harvest wines
;
all
monopoles that border the grand cru sites.
Since 2001, the wines carry an index number indicating the level of sweetness in the wines,
from driest (
1
) to sweetest (5). Muscat Goldert, and the Rangen wines are bone dry in 2016; then of the other Rieslings, Hauserer is the sweetest with 8g/l residual sugar, with Pinot Gris and Gewurz naturally sweeter.
"The skill of mastering the special balance of these wines and precisely matching it with strikingly original aromas and flavors is what makes producers, such as... Zind Humbrecht,
the stars of Alsace"
James Suckling
At Zind Humbrecht, 2016 looks to be a superb vintage which, according to Olivier, is along the quality lines of the great 1985 and 1988 vintages. A vintage which experienced a very rainy June followed by a very dry September, Alsace managed to avoid the frosts suffered elsewhere and also had no problem with mildew or rot.
We are delighted to offer these wonderful wines for the first time - world-class whites - from a renowned producer that also offer incredible value for money - a great vintage to start on!
"In no other French winegrowing region is there a comparable geological complexity to Alsace. You really taste that in the Alsace grand cru wines. Furthermore, the prices for most of them are moderate compared to those in Burgundy or, with the single-vineyard dry GG wines from across the border in Germany"
James Suckling
Vintage
Name
Size
Cs
Bt
GBP Price
Per

Actions

scores
WA
VIN
BU
JR
DEC
2016
Gewurztraminer Clos Windsbuhl, Zind-Humbrecht
75cl
7
6
£390
CS (12)
[Add to shopping basket]
-
-
-
-
-
2016
Gewurztraminer Hengst, Zind-Humbrecht
75cl
5
-
£390
CS (12)
[Add to shopping basket]
-
-
-
-
-
2016
Gewurztraminer Rangen De Thann Clos St Urbain, Zind-Humbrecht
75cl
4
-
£540
CS (12)
[Add to shopping basket]
-
-
-
-
-
2016
Muscat Goldert Grand Cru, Zind-Humbrecht
75cl
5
-
£220
CS (12)
[Add to shopping basket]
-
-
-
-
-
2016
Pinot Gris Clos Jebsal Sdgn, Zind-Humbrecht
6x37.5
3
-
£150
CS (6)
[Add to shopping basket]
-
-
-
-
-
2016
Pinot Gris Clos Jebsal Vendange Tardive Comparison Case, Zind-Humbrecht
6x37.5
5
-
£115
CS (6)
[Add to shopping basket]
-
-
-
-
-
2016
Pinot Gris Clos Windsbuhl, Zind-Humbrecht
75cl
7
6
£390
CS (12)
[Add to shopping basket]
-
-
-
-
-
2016
Pinot Gris Rangen De Thann Clos Saint Urbain, Zind-Humbrecht
75cl
6
6
£540
CS (12)
[Add to shopping basket]
-
-
-
-
-
2016
Riesling Brand, Zind-Humbrecht
75cl
2
-
£450
CS (12)
[Add to shopping basket]
-
-
-
-
-
2016
Riesling Clos Hauserer, Zind-Humbrecht
75cl
7
6
£300
CS (12)
[Add to shopping basket]
-
-
-
-
-
2016
Riesling Clos Windsbuhl, Zind-Humbrecht
75cl
7
6
£390
CS (12)
[Add to shopping basket]
-
-
-
-
-
2016
Riesling Rangen De Thann Clos St Urbain, Zind-Humbrecht
75cl
2
-
£540
CS (12)
[Add to shopping basket]
-
-
-
-
-