STUNNING NEW ZEALAND PINOT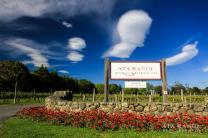 Outside of Burgundy, Pinot Noir has made a name for itself in New Zealand. We are delighted to offer a small selection of seriously good Pinots including the exceptional 2015 vintage from top producers in the key regions of Central Otago (Burn Cottage and Lowburn Ferry) and Martinborough's revered Ata Rangi.
"The long-serving, dedicated team behind Ata Rangi just go from strength to strength. Their Pinots have always been great and yet, even in a world where the Pinot benchmark gets higher every year, Ata Rangi is better than ever."
Lisa Perrotti-Brown, Wine Advocate
BURN COTTAGE
The first vintage at Central Otago's Burn Cottage was in 2009 with renowned winemaker Ted Lemon of Littorai fame. Situated about a mile away from Felton Road, Burn Cottage is the only Central Otago estate that has been biodynamic since day one. 2014 is the first vintage of a second label, Moonlight Race, sourced mostly from the estate vineyard but also 2 other vineyards in Central Otago.

LOWBURN FERRY
A few km from Burn Cottage, Lowburn Ferry has developed a cult following in New Zealand, its Home Block Pinot Noir consistently winning trophies and top honours in blind tastings, including Best Pinot Noir of New Zealand for its 2014. Named for a historic river crossing, just 3.5 hectares are planted here at this vineyard with annual production around 2700 cases annually. Pure, complex and unforced wines.
GREYWACKE
Greywacke is best known for its white wines but legendary Marlborough winemaker Kevin Judd (the man behind the success of Cloudy Bay) is at the forefront of a movement towards Pinot in this area. The name comes from the indigenous Greywacke rock, typical of the Marlborough region, which suits Pinot Noir well. The 2014 Greywacke Pinot Noir is another exceptional Pinot release from the team at Greywacke - a highly perfumed Marlborough Pinot Noir with sweetness married with a cedar-like spiciness and a delicate smoky scent.
---
Wines offered excluding duty and VAT. For enquiries please

email the team

or order below. Offer subject to final confirmation. E&OE.