NEW RELEASE: KRUG GRANDE CUVEE 165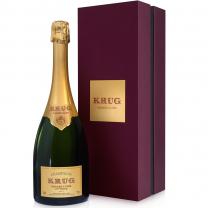 The 165th edition of Krug's prestigious Grande Cuvee is now available, described by Jancis Robinson as "More hedonistic than many Krugs". Based on the 2009 vintage, it is a blend of 127 wines from 12 different years going all the way back to 1990. Edition 165 is rated higher by Jancis than the hugely successful 164 that sold out almost immediately on release.
"This is the smallest, rarest batch ever for Grande Cuvée because of caution instilled by the economic crisis. In one year they will have three editions (163, 164 and 165) because 2008 and 2009 won't be enough for one year's sales!"
Krug's priority is to use their best juice to enrich Grande Cuvée, the decision to release a single vintage Champagne is made second and only if quality and quantity allow. There is an incredible richness and depth to Grande Cuvée thanks to the ages in the blend. Champagne lovers know that Grande Cuvée with bottle age is very special indeed, equivalent in quality to a Krug vintage (and sometimes better).

Edition 165 is a blend of 47% Pinot Noir, 38% Chardonnay and 15% Pinot Meunier.



"Very pale with a heady nose and some richness. Firm and flirtatious with a really solid, ripe undertow. More hedonistic than many Krugs."
---
Wines offered excluding duty and VAT. For enquiries please

email the team

or order below. Offer subject to final confirmation. E&OE.