NEW RELEASE: Dom Perignon 2009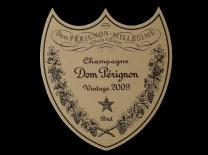 We are very pleased to offer the newly released 2009 Dom Perignon. The 2009 has been made available ahead of the highly anticipated "stellar" 2008 Dom Perignon and the Champagne house believes they were able to make such a great 2009 based on their experience with the 2003, a similar vintage. A near 50/50 blend of Pinot Noir and Chardonnay, the first such blend since the 1990 vintage, the 2009 is described by Antonio Galloni as "one of the most accessible young Dom Perignons I can remember tasting".
We tasted it last week and were very impressed - a beautifully delicate nose of brioche and citrus, wonderfully fresh in the palate, very elegant and fine.
---
Dom Perignon 2009 £565

per case of 6 In bond
"This is a DP that shows the ripeness of the 2009 vintage yet remains full of energy.

Gorgeous aromas of cream, apple, mango, honeysuckl

e, and chalk follow through to a full body and super fine, tight texture. Dense and agile. Vinous. It's like a top grand cru white Burgundy. Think Batard-Montrachet.

More depth than the 2006. Drink now"
"Released before the 'tighter' 2008, the standout character of the 2009 according to chef de cave Richard Geoffroy is 'fruit, glorious, fruit'. With its floral nose, taffeta texture and linear finish, this balances power and restraint with precision and charm"
97pts Steven Spurrier, Decanter
"The 2009 Dom Pérignon is a

gorgeous, totally seductive Champagne

that will drink well right out of the gate. Medium in body and unusually open-knit at this stage, the 2009 is one of the most accessible young Dom Pérignons I can remember tasting. It is an excellent choice to drink while waiting for the release of the stellar 2008 and some recent vintages that remain very young, including the 2006. Despite the warm, ripe personality of the 2009 Dom Pérignon is quite gracious, but there is plenty of depth underpinning the fruit. With each successive tasting, the 2009 seems to have gained more power and breadth, especially on the finish. Above all else, the 2009 is decidedly restrained for a warm, radiant vintage. It is not as overtly flamboyant as the 2002 nor as phenolically intense as years like 2003 and 2006. Instead, the 2009 is

a beautifully balanced Champagne

, with all of its elements in the right place."
94pts Antonio Galloni
"Just being released. Very pale, very youthful nose. Lots of zest and freshness. Introvert and tight. But approachable in terms of texture. The flavour is not fully formed yet but it's already a pleasure to drink from the point of view of balance, presumably thanks to the relatively low acidity. Light hint of bitterness on the end. Length.

Palate-enrobing! Lovely texture

"