Superb duty paid cellar - Bordeaux, Italy...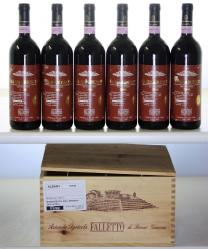 We are delighted to offer this superb cellar, recently acquired from a private customer whom we have known for many years. There are some real gems here, from the bottles and large formats of Bordeaux Classed Growths 1990-2006 to several cases of the "impeccably refined, nuanced and silky" 2000 Giacosa Barbaresco Asili Riserva (98pts WA).
All wines are

packed in their original cases and ready to deliver; all are

duty paid (ex VAT) and so there is no duty of £25.98 to pay on top of the prices below.
| | | | | | |
| --- | --- | --- | --- | --- | --- |
| Vintage | Wine Name | Cases | GBP / Case (DP ex VAT) | Case Size | GBP / Btl (inc VAT) |
| | RED BORDEAUX | | | | |
| 2000 | Dame de Montrose | 2 | 450 | 12x75cl | 45.00 |
| 2000 | Talbot | 1 | 850 | 12x75cl | 85.00 |
| 2000 | Grand Puy Lacoste | 2 | 980 | 12x75cl | 98.00 |
| 2000 | Pontet Canet | 1 | 1010 | 12x75cl | 101.00 |
| 2000 | Chapelle de la Mission | 2 | 1050 | 12x75cl | 105.00 |
| 2000 | Pavie Decesse | 2 | 1100 | 12x75cl | 110.00 |
| 2000 | Leoville Barton | 2 | 1180 | 12x75cl | 118.00 |
| 2000 | Leoville Poyferre | 1 | 1440 | 12x75cl | 144.00 |
| 2000 | Cos d'Estournel | 2 | 1500 | 12x75cl | 150.00 |
| 2000 | Lynch Bages | 1 | 1980 | 12x75cl | 198.00 |
| 2000 | Palmer | 2 | 2780 | 12x75cl | 278.00 |
| 2002 | Pichon Lalande | 1 | 1100 | 12x75cl | 110.00 |
| 2003 | Lynch Bages | 2 | 1280 | 12x75cl | 128.00 |
| 2003 | Cos d'Estournel | 1 | 1520 | 12x75cl | 152.00 |
| 2003 | Montrose | 2 | 1720 | 12x75cl | 344.00 |
| 2003 | Haut Brion | 2 | 1875 | 6x75cl | 375.00 |
| 2003 | Palmer | 1 | 1880 | 12x75cl | 376.00 |
| 2003 | Lafleur | 1 | 1950 | 6x75cl | 195.00 |
| 2003 | Mouton Rothschild | 2 | 2360 | 6x75cl | 236.00 |
| 2003 | Cheval Blanc | 2 | 3750 | 12x75cl | 375.00 |
| 2003 | Lafite Rothschild | 1 | 4550 | 6x75cl | 910.00 |
| 2003 | Mouton Rothschild | 1 | 4720 | 12x75cl | 472.00 |
| 2004 | Pensees de Lafleur | 4 | 380 | 6x75cl | 38.00 |
| 2004 | Leoville Barton | 2 | 640 | 12x75cl | 128.00 |
| 2004 | Lafleur | 2 | 1550 | 6x75cl | 310.00 |
| 2004 | Latour | 2 | 2050 | 6x75cl | 205.00 |
| 2004 | Margaux | 1 | 3700 | 12x75cl | 370.00 |
| 2004 | Lafite Rothschild | 1 | 6400 | 12x75cl | 1280.00 |
| 2005 | Chasse Spleen | 1 | 175 | 6x75cl | 35.00 |
| 2005 | Angludet | 1 | 180 | 6x75cl | 18.00 |
| 2005 | Cantemerle | 3 | 340 | 12x75cl | 34.00 |
| 2005 | Batailley | 1 | 450 | 12x75cl | 45.00 |
| 2005 | Gloria | 3 | 450 | 12x75cl | 90.00 |
| 2005 | Haut Batailley | 3 | 450 | 12x75cl | 45.00 |
| 2005 | Talbot | 5 | 650 | 12x75cl | 65.00 |
| 2005 | Gruaud Larose | 2 | 670 | 12x75cl | 67.00 |
| 2005 | Leoville Poyferre | 2 | 820 | 12x75cl | 82.00 |
| 2005 | Grand Puy Lacoste | 2 | 850 | 12x75cl | 85.00 |
| 2005 | Beychevelle | 3 | 980 | 12x75cl | 98.00 |
| 2005 | Pichon Lalande | 2 | 990 | 12x75cl | 99.00 |
| 2005 | Pichon Baron | 2 | 1170 | 12x75cl | 117.00 |
| 2005 | Lynch Bages | 2 | 1280 | 12x75cl | 128.00 |
| 2005 | Figeac | 2 | 1540 | 12x75cl | 154.00 |
| 2005 | Ducru Beaucaillou | 2 | 1740 | 12x75cl | 174.00 |
| 2006 | Cantemerle | 6 | 155 | 6x75cl | 15.50 |
| 2006 | Haut Batailley | 1 | 310 | 12x75cl | 31.00 |
| 2006 | Gloria | 2 | 360 | 12x75cl | 36.00 |
| 2006 | Batailley | 6 | 400 | 12x75cl | 40.00 |
| 2006 | Grand Puy Lacoste | 3 | 490 | 12x75cl | 49.00 |
| 2006 | Gruaud Larose | 4 | 570 | 12x75cl | 57.00 |
| 2006 | Smith Haut Lafitte Rouge | 2 | 750 | 12x75cl | 75.00 |
| 2006 | Calon Segur | 2 | 800 | 12x75cl | 80.00 |
| 2006 | Lynch Bages | 2 | 1020 | 12x75cl | 102.00 |
| | SWEET WHITE BORDEAUX | | | | |
| 1990 | Yquem | 1 | 2600 | 12x75cl | 260.00 |
| | ITALY | | | | |
| 2003 | Ornellaia | 9 | 700 | 6x75cl | 140.00 |
| 2002 | Sassicaia | 7 | 1750 | 12x75cl | 175.00 |
| 2003 | Sassicaia | 7 | 1750 | 12x75cl | 350.00 |
| 2000 | Barbaresco Asili Riserva, Bruno Giacosa | 5 | 2100 | 6x75cl | 210.00 |
| | LARGE FORMATS | | | | |
| 1990 | Mouton Rothschild IMPERIAL | 2 | 3000 | 1x600cl | 3600.00 |
| 1997 | Langoa Barton IMPERIAL | 2 | 320 | 1x600cl | 384.00 |
| 1997 | Leoville Barton IMPERIAL | 2 | 450 | 1x600cl | 540.00 |
| 1999 | Batailley MAGNUMS | 1 | 400 | 6x150cl | 80.00 |
| 2000 | Cantemerle DOUBLE MAGNUMS | 3 | 400 | 3x300cl | 160.00 |
| 2000 | Issan DOUBLE MAGNUMS | 4 | 760 | 3x300cl | 304.00 |
| 2003 | Batailley MAGNUMS | 3 | 420 | 6x150cl | 84.00 |
| 2003 | Palmer MAGNUMS | 1 | 1780 | 6x150cl | 356.00 |
| 2004 | Batailley MAGNUMS | 3 | 380 | 6x150cl | 76.00 |
| 2005 | Batailley MAGNUMS | 1 | 480 | 6x150cl | 96.00 |
| 2006 | Domaine de Chevalier Rouge MAGNUMS | 2 | 450 | 6x150cl | 90.00 |
| 2006 | Leoville Poyferre DOUBLE MAGNUMS | 2 | 640 | 3x300cl | 256.00 |