Burgundy 2015: Jean-Michel Guillon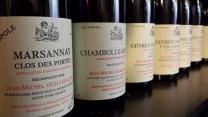 We are delighted to offer the newly released 2015s from Jean-Michel Guillon in Gevrey Chambertin, a Domaine we are very pleased to be working with closely, and from whom we have been shipping directly since the 2013 vintage.

There has rightly been much excitement around the 2015 Burgundies, reds in particular with a warm and very dry season bringing gorgeously ripe red and blacks fruits, body and depth and silky smooth tannins sparking comparisons to 2005 and 2009 and even older. On 2015 Jean-Michel says

"We are extremely happy with the quality as they should drink well early

on yet age for years as the tannins are ripe and there is excellent underlying material."

Jean-Michel also cites the local view in Gevrey Chambertin that recalls similarities with 1959, 1947 and even 1929 - certainly the quality of the fruit is the best that he has seen in his 35 years as a vigneron. Great news for Burgundy lovers, tempered by the reduced quantities in 2015, with yields down by 30%.
Jean-Michel is a talented winemaker who takes Rousseau, Dugat-Py and Denis Bachelet as his inspiration to make rich, succulent and impressive Burgundies with excellent ageing potential. 100% new oak, whole bunch fermentation and intensive work in the vineyard are hallmarks here, and have brought him respect of his peers and status as President of the syndicat of winegrowers of Gevrey Chambertin.
"The quality of the Guillon 2015s is impressive across the board but where I believe that they really shine is with their entry level examples"
"not a grower that I know well, but this excellent wine suggests I should investigate further"
Neal Martin on Clos de Vougeot 2013
Wine offered In Bond (IB) excluding duty and VAT. For enquiries please email the team

Offer subject to final confirmation. E&OE.
Vintage
Name
Size
Cs
Bt
GBP Price
Per

Actions

scores
WA
VIN
BU
JR
DEC
2015
Bourgogne Pinot Noir, Guillon, Jean-Michel
75cl
-
-
£165
CS (12)
[Add to shopping basket]
-
-
-
-
-
2015
Chambolle Musigny Au Village, Guillon, Jean-Michel
75cl
-
-
£410
CS (12)
[Add to shopping basket]
-
-
87-90
-
-
2015
Clos de Vougeot, Guillon, Jean-Michel
75cl
2
-
£1,180
CS (12)
[Add to shopping basket]
-
-
92-94
-
-
2015
Gevrey Chambertin Champonnets 1er Cru, Guillon, Jean-Michel
75cl
4
-
£570
CS (12)
[Add to shopping basket]
-
-
90-92
-
-
2015
Gevrey Chambertin Cuvee Pere Galland, Guillon, Jean-Michel
75cl
9
-
£380
CS (12)
[Add to shopping basket]
-
-
89-91
-
-
2015
Gevrey Chambertin Petite Chapelle 1er Cru, Guillon, Jean-Michel
75cl
1
-
£700
CS (12)
[Add to shopping basket]
-
-
91-93
-
-
2015
Marsannay Clos Des Portes Monopole, Guillon, Jean-Michel
75cl
3
6
£245
CS (12)
[Add to shopping basket]
-
-
-
-
-
2015
Mazis Chambertin, Guillon, Jean-Michel
75cl
1
-
£1,200
CS (12)
[Add to shopping basket]
-
-
92-95
-
-
2015
Nuits St Georges Chaillots, Guillon, Jean-Michel
75cl
7
-
£410
CS (12)
[Add to shopping basket]
-
-
88-91
-
-