Buy Wine
Provenance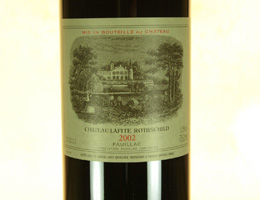 We pay careful attention to the provenance and condition of each wine that we purchase and are happy to provide details on any case to our customers on request. To ensure best provenance, our stock is sourced from professional cellars and bonded warehouses, or from private well-cellared stock. We are one of the few merchants in the UK who refuse to buy stocks that have been cellared in the US. Most wines are already held in our warehouse though a small proportion will be lying with our suppliers pending shipment, or will already be in transit to us.
Order Online
You can now place your orders online as well as by phone or email. Simply click on the shopping basket symbol next to your chosen wine and then select the quantity which you would like to order. You can view and edit the items in your shopping basket at any time simply by clicking on the link to your shopping basket in the top right corner. Here you can change the quantities and remove wines from your basket before you place your order.
By Phone, Fax or Email
Please let us know if there are wines that may be of interest, or if you are looking for a wine that does not appear on our list. Orders and enquiries can be submitted by email to sales@albanyvintners.com. We will then contact you to confirm availability and to discuss any further requirements, payment and delivery details.
En Primeur
If you would like to order en primeur from the latest Bordeaux vintage please visit our dedicated guide.
Invoicing
In Pounds Sterling (£) unless otherwise agreed. Cleared funds must be received prior to collection or delivery.
Current VAT VAT @ 20%
Duty Rates per 9 litres:
£21.71 – Still Wine
£27.81 – Champagne
£28.94 - Port
Payment
We accept all forms of standard international payment: UK Cheque, Debit Cards, Credit Cards (subject to a 2% handling fee) & Bank transfer.
Our Bank Details
Bank Name:

Barclays Bank Plc

Bank Address:

Moorgate Branch, 128 Moorgate, London, EC2M 6SX

Account Name:

Albany Vintners Limited

Sort Code:

20-32-06

Sterling Account:

20489565

IBAN:

GB86BARC20320620489565
Shipping
UK Deliveries
These are charged at cost with a minimum charge for up to 10 cases. Please contact us for a quote.
Shipping - Europe & World Wide Deliveries
We will be pleased to supply quotes and recommendations of reliable shipping companies. For information and enquiries, please contact us at info@albanyvintners.com
full wine list
quick links