Tenuta San Leonardo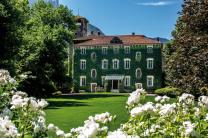 San Leonardo is an outstanding Bordeaux blend, described by Vinous as "Italy's Grand Vin of the North" and compared by many critics in style and quality to Sassicaia. Indeed after a vertical tasting including both Italian icons Jancis Robinson's average rating for both wines was almost identical leaving her to muse; "why is San Leonardo so much cheaper?"
"Sassicaia & San Leonardo seem like brothers separated in childhood" Monica Larner, Wine Advocate
The history of Tenuta San Leonardo is intertwined with that of the more renowned San Guido estate. Indeed owner and aristocrat-oenologist Marchese Carolo Guerrieri Gonzaga was inspired to plant Cabernet Sauvignon, Merlot and Cabernet Franc at his family's ancient property by Marchese Mario Incisa della Rocchetta, the revolutionary behind Sassicaia, whom they describe as their 'oenological godfather'. Aided by the talented Giacomo Taschis, the original winemaker of Sassicaia & Solaia, they set about producing the first vintage of San Leonardo in 1982 and they've never looked back.
"These are wines with the most complex bouquets, showing just the sort of harmony you wish all classed-growth bordeaux had."
Jancis Robinson MW
This is an exceptional terroir at the foot of the Dolomites in the italian Alps. Warm sunny days and cool nights allow for slow even ripening of the grapes and enable them to develop wonderfully complex flavours whilst maintaining good acidity. There is minimal intervention in the vineyard with grapes hand harvested before being gently pressed and aged in French oak. The results are complex, elegant wines with rich concentrated fruit, fine tannins and great depth that are renowned for their exceptional ageing potential.
"If you enjoy classic Bordeaux, if you enjoy the energy and verve of Italian wine, and if you crave experiencing history in a bottle, then you should seek out Tenuta San Leonardo."
Eric Guido, Vinous
A long time favourite of the cognoscenti, we are delighted to offer an excellent trio of recent vintages from this historic estate; the "classic" 2015, the "exceptionally balanced, fresh and long" 2016 and the exuberant 2017.
---
"The 2015 San Leonardo pours forth with a beautiful velvety appearance and sultry dark garnet color. This wine shows a lot of life and dark fruit purity with black plum, blackberry, cassis and tarry prune. There is a delightful note of black pepper that is specific to this warm and sunny vintage. The fruit shows softer and richer concentration compared to past vintages and more pulpy density that gives this edition a bigger profile in terms of mouthfeel. Drink 2025-2050."

97+ | Monica Larner, Wine Advocate
---
"Another year in bottle has added unexpected depths and dimension to the 2016 San Leonardo. It wafts up with an alluring bouquet of smoky black currant and plum skins, complicated by savory herbs, hints of white pepper and fresh tobacco. It's hard chiseled edges have formed into smooth contours now, velvety yet youthfully dense, washing mineral encased dark red and black berries across a core of brisk acidity as a combination of saline-minerals and grippy tannins add tension toward the close. This finishes incredibly long yet also structured, begging for time in the cellar, as hints of licorice and earth tones grumble under an air of inner violet florals. The potential within the 2016 San Leonardo is off the charts, yet it will require a good amount of time to come fully into focus. Bury your bottles deep. Drink 2026-2040."
96 | Eric Guido, Vinous
---
"The Tenuta San Leonardo 2017 San Leonardo (in a heavy glass bottle) shows subtle but unmistakable generosity and exuberance that is absolutely in line with this hot vintage. In this regard, the 2017 stands apart from past vintages from this estate that is celebrated for its elegant, undertone and long-term approach. This wine is slightly more accessible too, with plush, dark fruit, balanced oak spice and perfumed rose over a polished, silky mouthfeel. Drink 2025-2050."
95 | Monica Larner, Wine Advocate