BORDEAUX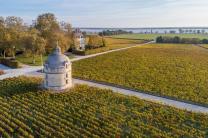 Autumn Fine Wine releases from Bordeaux.
---
*** RELEASED ***
---
Chateau d'Yquem

"The 2016 Yquem was picked from 27 September until 4 November after drought-like conditions in the summer. It has an attractive nose with white chocolate, chamomile and Chinese white tea infusing the honeyed fruit. Very well defined and focused with more cohesion than previous bottles. The palate is medium-bodied with a viscous opening that demonstrates a little more weight than the 2015, a fine bead of acidity and touches of ginger and lemongrass enlivening the finish. I feel this has gained a bit more complexity in recent years."
95 | Neal Martin
---
Chateau Latour

"The 2010 Latour can be summed up in two words: "The king." It convincingly asserts its superiority over other 2010s, including First Growths, in terms of its aromatic complexity, precision, balance, intensity, complexity and persistence. Simply a faultless Latour that ranks among its greatest achievements."
100 | Neal Martin, Vinous
---
*** AWAITING RELEASE ***
---
Chateau Palmer

"The annual release of 10 year old Château Palmer, and this time it's an often-underrated but delicious vintage that sits in the shadow of the most prestigious years of the last decade. Proof of how slowly this wine ages, it is packed with blueberry and cassis fruits, a shot of mint leaf, mandarin peel, sage and dark chocolate, with shoulders and a serious architecture, bigger than you might expect for a vintage with such an easy-drinking, gourmet reputation. I last tasted this vintage around eight months ago and it has opened up further since then, often the case as wines shift around the decade mark, and this is an upscore. A moment when Palmer was fully committing to farming biodynamically, doubling its coverage to almost 15 hectares, and had just unveiled a new cellar. Harvest October 1 to 15, Sabrina Pernet technical director, Thomas Duroux director. 68% new oak. No rush to drink, and has many decades ahead, but you can begin thinking about it."
95 | Jane Anson
---
Chateau Cheval Blanc

"Powerful, rich fruit structure, barreling right through the mid palate, displaying density and grip. Layers of bitter chocolate, cocoa bean, liquorice, blackberry and a more delicate floral fragrance that hovers over the whole. Not exuberant at this stage, will take its time to open, but huge potential."
93 | Jane Anson
---