AUSTRALIA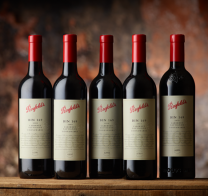 Autumn Fine Wine releases from Australia.
---
*** RELEASED ***

---
Penfolds

"Made only in appropriate vintages, and always from Coonwarra, the 2019 Bin 169 Coonawarra Cabernet Sauvignon is aromatically reticent at this stage, however the power of the fruit in the mouth in unassailable. It blossoms on the back palate and shows pedigree and impressive stature. This is a supremely elegant wine of poise and detail, couched in a framework of power and dense muscly tannin. We all have our preferences between Bin 707 and Bin 169, but for me, my heart has always been with the 169. I think Cabernet deserves an elegant casing, and that is made from French oak (17 months in French oak, 56% new, to be precise). This is pure, but far too young right now. We know this has decades of graceful development ahead of it."
97 | Erin Larkin, Wine Advocate
---
*** AWAITING RELEASE ***

---
Wynn's

One of Australia's longest-lived and most collected Cabernet Sauvignons from Coonawarra's famed terra rossa strip.

"The refinement of coopers (a result of repeated and long-term R&D over the years) is now starting to emerge as a key part of the success of these new release, premium wines. The selected one or two coopers work to preface the fruit and support the fruit and show the terroir… This is why we drink wine: to taste the place that it came from and to be transported there, if even for a moment. This 2019 John Riddoch Limited Release Cabernet Sauvignon is exceptional—it is pure and has tannic sway and flow, and the palate is steeped in five spice, raspberry, mulberry, cassis and black tea. Inchoate. Don't touch it for seven years at least. Even then…"
97 | Erin Larkin, Wine Advocate
---