CHILE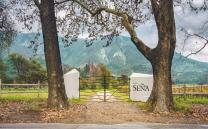 "Chilean wines have never been better thanks to a string of excellent vintages... great wines by all standards and rank among the best wines of the world, even when compared against classical regions such as Bordeaux and Burgundy"
James Suckling
---
*** RELEASED ***

---
Almaviva

Almaviva was famously pronounced "the finest Cabernet-based wine I have ever had from Chile" by Robert Parker. Made in the style of a top Pauillac with the assistance of Mouton Rothschild's team of experts, this marriage of First Growth expertise with exceptional Chilean terroir has attracted a strong following around the world, with consistent demand from release onwards. The early drinking second wine, Epu, comes from the estate's younger vines.

"The wine has a bright nose with a clean note of baked "morrón" peppers intermixed with red berry compote. It has a velvety plate with the luxurious texture of the modern Bordeaux, with abundant, slightly dusty tannins. It's approachable and round but should reward some time in bottle. This is a pretty serious Epu."
94 | Luis Gutierrez, Wine Advocate

---
"Fresh and deep nose, full of blueberries, minty cassis, mussels, cigars, dark spice and roasted sesame oak, which will need a year or two to fully integrate. A medium-to full-bodied Almaviva with supple, silky tannins and a wealth of black and blue fruit that provides a lot of charm now. Voluptuous and flattering on the palate, hallmarked by its tension and taut texture. Very long. This is the 25th anniversary bottling."
98 | James Suckling
---
Sena

In collaboration with Robert Mondavi, Eduardo Chadwick created Seña ("signature"). Their aim was to make an iconic Chilean wine, to show off the terroir of the Aconcagua Valley north of Santiago. A Cabernet/Carmenere blend with a dash of the other Bordeaux varietals, Seña stands out for its complexity and is regularly benchmarked against Bordeaux's First Growths. 2020 was a good, even vintage of power and concentration, allowing Sena to make a new second wine: Rocas de Sena, from lots not used in Sena, blended with Malbec, Syrah and Grenache.
"It's subtle and layered, not only fruit but with more spice; it has polished tannins and very integrated oak after 22 months in barrique... This wine has intensity and complexity, with no mintiness or herbal notes; it's spicy and juicy, with energy and depth. It has structure, color, stuffing and acidity to develop nicely in bottle."
97 | Luis Gutierrez, Wine Advocate

---
"Focused nose, showing fresh red chili chocolate with cigar, truffle, mint, olive and grilled meat. This is a medium-to full-bodied red with incredibly juicy and bright fruit and fine, caressing tannins that linger in the long, creamy but precise finish. Elegant and extremely drinkable with complexity. on top of 38% malbec, 25% syrah, 15% cabernet sauvignon, 14% grenache and 8% petit verdot. The real deal."
96 | James Suckling
---
Vinedo Chadwick

From Puento Alto in the Maipo Valley, not far from Almaviva, at the foothills of the Andes mountains. This is an exceptional small vineyard around the Chadwick family home, planted to Cabernet Sauvignon in 1992 (converted from a polo field once its potential was recognised!).
"Deep nose, but also precise and nuanced, with high-grade cigar box, fresh red berries, currants, charcoal, grilled meat and olives. Fine cocoa bean and mint, too. Ultra-fine and polished with a very precise, rather linear palate for cabernet. Precise, restrained, classy and long with a hint of creme de cassis in the end. 100% cabernet sauvignon. Drink or hold."
98 | James Suckling
---
Clos Apalta
This wine made an immediate impact when its debut 1997 vintage was described by Robert Parker as an "extraordinary wine...Serious wine tasters should give it a try". The blend of Carmenere, Merlot and Cabernet Sauvignon is sourced from the estate's oldest vines in Colchagua, many of which are pre-phylloxera and are un-grafted.
"A generous array of ripe black and blue fruit with pink peppercorns, green olives, dried flowers, toffee and chocolate orange. It's full-bodied with firm, creamy and velvety tannins. Long and polished. Lovely salted caramel and olives at the end. Keeps going. Unfolds on the finish. 70% carmenere, 18% merlot, 8% cabernet sauvignon and 4% petit verdot."
99 | James Suckling


---