Brunello di Montalcino 2016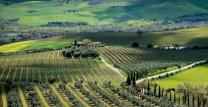 "Brunello from 2016 and Brunello Riserva from 2015 are poised for long-term success, they will undoubtedly be remembered as important highlights on a long timeline of vintages. These are career-defining wines for many estates and for the appellation as a whole." Monica Larner
Brunello has captured the interest of wine lovers across the world. The hillside vineyards around Montalcino give Tuscany's finest expressions of Sangiovese, and tick all the boxes: character and complexity, pedigree, ageing potential - and prices that remain accessible.
2016 Entitled 'Radiance Personified' by Vinous, 2016 is a stunning follow-up to 2015. Echoing Bordeaux in vintage styles with 2015 warmer with large-scaled voluptuous fruit, and 2016 a long summer with cool nights defining wines of expressive perfume, vibrancy and tantalising balance.
"They are dark yet radiant, expressive, nearly explosive at times, yet pure, poised and structured. These are wines that capture your imagination; and no matter how youthfully tense they are today, you simply can't help but revisit a glass over and over again; because in many cases, the aromatics alone are intoxicating.....
I frankly cannot remember the last time I tasted young wines from Montalcino that possessed such symmetry from start to finish."
Vinous on 2016
"If you ever wanted a Brunello di Montalcino for your cellar to age for decades, then buy the 2016 vintage when the wines come out in the market"
James Suckling
As the 2016 Brunellos start to be released, we are delighted to offer a wide selection. We will continue adding more producers as they become available.
Please let us know if you would like to place an order or get in touch.
---