2020 Champagne Releases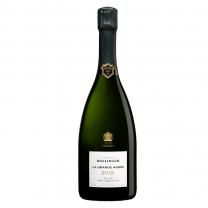 Bollinger La Grande Annee 2012
Always appealingly priced compared to other top prestige cuvées and our allocation of the "vibrant and wonderfully nuanced" 2012 vintage will be arriving at the warehouse shortly in bottles and magnums. Disgorged in July 2019, the 2012 is a blend of 65% Pinot Noir and 35% Chardonnay that shows wonderful freshness and complexity. 2012 was an exceptional vintage for the Champagne region and in particular for Pinot Noir . Yields were greatly reduced by hail and frost in the early part of the season but fine weather in August saw beautifully ripe fruit and excellent acidity.

"The attack is stunningly intense and the weight in the oral cavity leaves nothing left to wish for. Resilient energy and fullness are combined with greatness. Anyone who has patience will be rewarded with truffled flavor layers, chocolate saturated complexity and added exoticism of honeysuckle in the wine's bouquet."
Richard Juhlin
---
The ultimate multi-vintage champagne and the 168th edition is special - based around the excellent 2012 vintage. There will be no 2012 Vintage Krug in favour of Grande Cuvee - testament to Krug's founding principle of dedicating their best juice to make the best Grande Cuvee every year. The quality is there in 2012 but sadly, not the quantity.
42% reserve wines were used - the oldest 1996, another highly acclaimed vintage - adding minerality and tension to dial down the richness of 2012. The final blend is 52% Pinot Noir, 35% Chardonnay and 13% Meunier from 198 wines, from 11 different years in characteristic Krug complexity. A fabulous Champagne and undoubtedly the best Grande Cuvee since #164 (£850-900/6 IB), it has already received a huge 19/20 score from Jancis Robinson. Perfect with food, it will give huge pleasure in its richness and depth already, but will gain with age.

We tasted a bottle for the online launch with Olivier Krug - and were struck by its generosity on the nose. - intense, buttery pastry with ripe citrus and candied peel, then buttery and deep like a Grand Cru Burgundy, salty and racy with seamless fine bubbles leading to a long tense finish. Flamboyant elegance.
"I think this is going to be a really great, glamorous Grande Cuvée that will continue to develop in bottle for many years to come."
Jancis Robinson
---
The world's most famous Champagne brand - known for showing incredible quality consistently it is a tribute to the art of blending.

Champagne's trailblazers, they are keen to explore what makes Dom Perignon special, in different years. With an enviable array of vineyards, they can make a vintage Champagne that exudes class, in classic but also atypical vintages, as they did in 2003 (a voluptuous and toasty 2003 that continues to surprise and win over drinkers). Not many houses will make a Prestige Cuvee in 2010 but winemaker Richard Geoffroy assisted by Vincent Chaperon, was confident that they could make a distinctive, intense and singular version of Dom Perignon showing the vintage at its best.

Dom Perignon 2010 is Chardonnay-dominant (the final blend is 54% Chardonnay and 46% Pinot Noir) though with slightly less than was used in 2005. Chardonnay was highly successful in 2010 but Pinot Noir less so, rains bringing a spate of botrytis.
"amazingly, obviously Dom Perignon on the nose... It's really tense and tight on the palate and has a certain fumey smokiness to the very concentrated palate."
Jancis Robinson
Chef de cave Vincent Chaperon explained that 2010 is one of the smallest productions yet. Pinot Noir from Ay was relegated from the blend but Grand Cru vineyards to the east escaped largely unscathed, with high quality Pinot fruit coming from Grand Crus Verzenay, Verzy, Bouzy and Mailly. Selection was severe and the tradeoff for maintaining such quality is the small crop.

Our tasting: Fine gold with inflections of green with a long, fine bead, the 2010 shows a savoury quality balanced by bright green apple, grapefruit confit and subtle hints of jasmine blossom, keeping the yeasty, autolytic notes for the background. On the palate, it is an open generous texture with depth that builds and impressive saline minerality, showing signs of what it has in store for further ageing. The finish is briny and persistent. Chardonnay class and elegance is very much front and centre here. Drinking now and over the next fifteen years.
---