NEW: Gaja's Iconic Barbaresco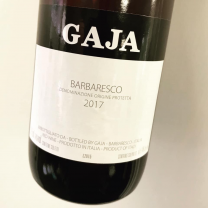 The release of Gaja's iconic Barbaresco in the 2017 vintage.

The undisputed king of Barbaresco, Angelo Gaja is the man who revolutionised Piedmont. His contribution to Italian winemaking cannot be overstated (replanting vineyards, installing stainless steel tanks for temperature control, ageing wines in small oak barrels, releasing single vineyard Barbarescos and experimenting with international varieties), and he remains one of Italy's most respected and collectable of winemakers.

The flagship Barbaresco is a smaller-production vintage in 2017, after late frosts reduced the crop and hot, dry August summer brought forth small, highly concentrated berries. "The 2017 Barbarescos are shaping up nicely. Yields are down around 30% because of dehydration and thick skins, typical of the year."

A blend of 14 different vineyard plots, the pedigree and winemaking expertise is clear here with Gaja's Barbaresco 2017. With 92-94 points from Galloni, the Barbaresco is not far off the quality of the renowned single vineyard crus Costa Russi and Sori Tildin this year.
Available In Bond UK, October2020. Please us know your interest.
---
BARBARESCO 2017, Gaja
£795 per 6x75 IB / £970.07 DP inc VAT

"The 2017 Barbaresco is a gorgeous example of the year. Sweet, perfumed and light on its feet, the 2017 offers an intriguing mélange of cedar, pipe tobacco, dried cherry, mint and incense nuances, with terrific freshness and the slightly nervous edge that runs through all of these wines."
92-94 Antonio Galloni, Vinous.com
---