There is Soave and then there is Pieropan...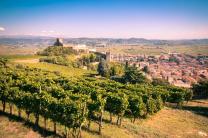 ---
£105 per 12x75 IB (£13.18/btl inc taxes)
85% Garganega, 15% Trebbiano di Soave, from volcanic soils 100-330m above sea level in the Soave Classico zone. L
ike
Calvarino, it is not aged in oak but remains on its fine lees for in glass lined tanks for a year, which adds complexity and depth.
Fresh and expressive, with classic aromas of white flowers, almonds, marzipan and a touch of citrus. Waxy and intense, with lively acidity and almond pastry on the end. Pairs very well with asparagus, pea and courgette dishes, as well as seafood and shellfish, or as an aperitif.
---
£80 per 6x75 IB (£18.68/btl inc taxes)
"

In 1971, the steep Calvarino hill became the source of Soave's first single-vineyard wine, still an icon of the region today. Elegant old-vine complexity, oyster shell breeziness and crisp citrus and orchard fruit, plus richer, more tropical tones on the long finish.

"
92pts Decanter
"

B

right straw. The intensely floral nose (buttercups, orange blossom, jasmine, peony) also hints at nectarine, peach and orange oil. Suggestions of cinnamon and cloves complicate the pomaceous orchard fruit flavors in the mouth. Finishes long and concentrated but much less mineral than other past vintages of this wine I am used to, and that I personally like better. Drink 2020-2024."
92+pts Ian d'Agata
, Vinous
---
£110 per 6x75 IB (£24.68/btl inc taxes)
La Rocca is a unique terroir - an outcrop of limestone in the basalt - and takes its name from the medieval castle in the town of Soave. La Rocca is fermented in large 500 litre barrels - rich and opulent, with a long mineral edge to it.
"

100% Garganega, from the La Rocca vineyard on chalky soil at 200m-300m, where the grapes are smaller and thicker-skinned, and picked when very ripe. Full of restrained, fresh apricot fruit in a kind of Marsanne-Roussanne style. Lemon-leaf freshness, dried banana and the toastiness of the oak on the nose, silky and delicate with moderate yet refreshing acidity; vibrant and imperceptibly tannic.

Drinking Window 2020 - 2040."
95pts Decanter
---
Contact us to enquire or register your interest. Available Early May, In Bond UK.