Bordeaux 2016: THE VERDICT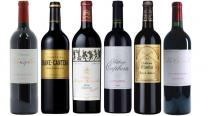 We have seen strong demand for the outstanding Bordeaux 2016s following the excellent
article in the FT
by Jancis Robinson MW on the annual in bottle tasting.
Widely regarded as the finest vintage of the millennium so far, the exceptional quality of 2016s left Jancis and other tasters in the group speechless in admiration. As the wines are all tasted blind it allows many lesser thought of estates to shine without prejudice.
"I have just had the pleasure of wallowing in the best Bordeaux vintage I will probably ever taste: 2016... But perhaps the most thrilling aspect of 2016 for this value-conscious northerner is that, as was clear even at the en primeur stage, the vintage is so consistent that there are many good wines in the lower ranks."
Jancis Robinson MW
"2016 is a fantastic, sublime and at times entrancing vintage. For once, the frothing hype that presaged en primeur was justified. The 2016 vintage already feels haloed. The promise that was so palpable in barrel remains, and many of these wines are destined to give immense pleasure, not only at the top of the hierarchy but on the lower rungs too – always the litmus test of a truly great growing season."

We are delighted to offer some of the best value and best performing 2016s from stock, this could be your last chance to pick up some of the knockout 2016s at these prices.
Contact us to enquire or register your interest. Limited quantity available. Available In Bond, UK Immediately.
Vintage
Name
Size
Cs
Bt
GBP Price
Per

Actions

scores
WA
VIN
BU
JR
DEC
, ()
-
-
£0
[Add to shopping basket]
, ()
-
-
£0
[Add to shopping basket]
, ()
-
-
£0
[Add to shopping basket]
, ()
-
-
£0
[Add to shopping basket]
, ()
-
-
£0
[Add to shopping basket]
, ()
-
-
£0
[Add to shopping basket]
, ()
-
-
£0
[Add to shopping basket]
, ()
-
-
£0
[Add to shopping basket]
, ()
-
-
£0
[Add to shopping basket]
, ()
-
-
£0
[Add to shopping basket]
, ()
-
-
£0
[Add to shopping basket]
, ()
-
-
£0
[Add to shopping basket]
, ()
-
-
£0
[Add to shopping basket]
, ()
-
-
£0
[Add to shopping basket]
, ()
-
-
£0
[Add to shopping basket]
, ()
-
-
£0
[Add to shopping basket]
, ()
-
-
£0
[Add to shopping basket]
, ()
-
-
£0
[Add to shopping basket]
, ()
-
-
£0
[Add to shopping basket]
, ()
-
-
£0
[Add to shopping basket]
, ()
-
-
£0
[Add to shopping basket]
, ()
-
-
£0
[Add to shopping basket]
, ()
-
-
£0
[Add to shopping basket]
, ()
-
-
£0
[Add to shopping basket]
, ()
-
-
£0
[Add to shopping basket]
, ()
-
-
£0
[Add to shopping basket]
, ()
-
-
£0
[Add to shopping basket]
, ()
-
-
£0
[Add to shopping basket]
, ()
-
-
£0
[Add to shopping basket]
, ()
-
-
£0
[Add to shopping basket]
, ()
-
-
£0
[Add to shopping basket]
, ()
-
-
£0
[Add to shopping basket]
, ()
-
-
£0
[Add to shopping basket]
, ()
-
-
£0
[Add to shopping basket]
, ()
-
-
£0
[Add to shopping basket]
, ()
-
-
£0
[Add to shopping basket]
, ()
-
-
£0
[Add to shopping basket]
, ()
-
-
£0
[Add to shopping basket]
, ()
-
-
£0
[Add to shopping basket]
, ()
-
-
£0
[Add to shopping basket]
, ()
-
-
£0
[Add to shopping basket]
, ()
-
-
£0
[Add to shopping basket]
, ()
-
-
£0
[Add to shopping basket]
, ()
-
-
£0
[Add to shopping basket]
, ()
-
-
£0
[Add to shopping basket]
, ()
-
-
£0
[Add to shopping basket]
, ()
-
-
£0
[Add to shopping basket]
, ()
-
-
£0
[Add to shopping basket]
, ()
-
-
£0
[Add to shopping basket]
, ()
-
-
£0
[Add to shopping basket]