Bordeaux 2016: THE VERDICT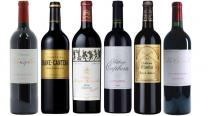 We have seen strong demand for the outstanding Bordeaux 2016s following the excellent
article in the FT
by Jancis Robinson MW on the annual in bottle tasting.
Widely regarded as the finest vintage of the millennium so far, the exceptional quality of 2016s left Jancis and other tasters in the group speechless in admiration. As the wines are all tasted blind it allows many lesser thought of estates to shine without prejudice. On the Right Bank Jancis was especially impressed with the wines of Denis Durantou whilst over in Saint Estephe she describes Meyney as "one of the most notable bargains of the vintage" outscoring Montrose and Cos d'Estournel!
"I have just had the pleasure of wallowing in the best Bordeaux vintage I will probably ever taste: 2016... But perhaps the most thrilling aspect of 2016 for this value-conscious northerner is that, as was clear even at the en primeur stage, the vintage is so consistent that there are many good wines in the lower ranks."
Jancis Robinson MW
"2016 is a fantastic, sublime and at times entrancing vintage. For once, the frothing hype that presaged en primeur was justified. The 2016 vintage already feels haloed. The promise that was so palpable in barrel remains, and many of these wines are destined to give immense pleasure, not only at the top of the hierarchy but on the lower rungs too – always the litmus test of a truly great growing season."

We are delighted to offer some of the best value and best performing 2016s from stock, this could be your last chance to pick up some of the knockout 2016s at these prices.
---
JANCIS' TOP VALUE PICKS
---
La CHENADE 2016, Lalande de Pomerol
£140 per 12x75cl / £150 per 6x150cl IB
"Juicier than most of its peers. Good core of interesting fruit and flesh. Tannins well managed and possibly GV (Good Value). Drink 2024-2032." 16.5 JR
Les CRUZELLES 2016, Lalande de Pomerol
£198 per 12x75cl IB
"Rich black-fruit aromas and good juiciness. Sufficient flesh and reward. Good drive. Top wine of its flight. GV (Good Value). Drink 2025-2038." 16.5 JR
CAPBERN 2016, St Estephe
£180 per 12x75cl

SOLD OUT



"Very dark crimson. Juicy and lively with real pace and intensity and some chalky, slightly inky, dry finish. Good fruit concentration. VGV (Very Good Value). Drink 2025-2040." 17.5 JR
MEYNEY 2016, St Estephe
£285 per 12x75cl

SOLD OUT



"one of the most notable bargains of the vintage: Ch Meyney was my favourite as well as the joint group favourite St-Estèphe with the widely admired Ch Calon-Ségur, outscoring the traditional titans of the commune Chx Montrose and Cos d'Estournel. Drink 2026-2050." 18.5 JR
---
SMART BUYS
---
"...a well-defined blackberry, bilberry, cedar and violet bouquet that gains intensity in the glass. The nicely balanced palate is medium-bodied with firm tannin, gentle grip and plenty of freshness on the finish. Very fine. Drink 2022-2042." 92 NM

"Lovely drink with St-Estèphe minerality. Everything in the right place but not a long-distance runner. Very pure though. Drink 2023-2030." 17.5 JR
GLORIA 2016, St Julien
£360 per 12x75cl IB
"Restrained nose suggests there's a lot going on here. Savoury – as dry as a Barton wine – but with great constitution. Drier than usual. Drink 2027-2045." 17.5 JR
BRANE CANTENAC 2016, Margaux
£315 per 6x75cl IB
"Henri Lurton and his sustainable viticulture will presumably be very pleased that his wine was the group's second-favourite Margaux after Ch Margaux. Drink 2025-2048." 17.5 JR
---
TOP RATED
---
"Tight and dense and dramatic and utterly convincing. With a little bit of richness. Fruit covers the tannin. Really very glorious. Dry finish. Reverberant. Salty. Drink 2026-2055." 18.5 JR
"The palate is medium-bodied with ultra-fine tannin that I have never witnessed in any other vintage of Cos d'Estournel. There is a beguiling symmetry to this Saint-Estèphe, as well as unerring mineralité. The persistent, tobacco-tinged finish can be felt 60 second after the wine has departed. This is a monumental, benchmark Cos d'Estournel that will give not years but decades of pleasure... Drink 2030-2070." 100 NM

PALMER 2016, Margaux
£1,360 per 6x75cl IB
"Slightly sweaty nose. Then thick and sweet and utterly charming and super-attractive texture. Fresh finish and the tannins are virtually subsumed in this glorious fruit. Kerpow! Great length. Heady, rich, very dramatic and lively. Complete. Drink 2026-2048." 18.5 JR
MISISON HAUT BRION 2016, Graves
£1,750 per 6x75cl IB
"Slightly sweaty nose and then lovely zest and interest. Thick with masses of exotic fruit over massive tannins. Most unusual. Very long. Sweet and spicy! Masses of interest." 18.5+ JR
Ch MARGAUX 2016, Margaux
£2,500 per 6x75cl IB
"Big, bold and very ripe on the nose. With a hint of yeast extract. Then savour and sinew. Masses of compact tannin. This wine needs time to expand. At the moment it's all confined in a tiny space. Chalky chew on the end. Racy. Drink 2030-2050." 18.5 JR
MOUTON ROTHSCHILD 2016, Pauillac
£2,625 per 6x75cl IB
"...the delineation and focus that take your breath away. The palate is medium-bodied with very supple tannin framing the pure black currant and cassis fruit. The acidity is pitch-perfect, and there is a gentle but insistent grip toward the extraordinarily long finish. Racking my brains to think of another Mouton Rothschild that I have tasted over the last 20 years that was as good as this, I simply cannot come up with one. Drink 2030-2080."
100 NM

(100 WA, 100 JS, 100 AG, 100 JD)



---
Contact us to enquire or register your interest. Limited quantity available. Available In Bond, UK Immediately.