Brunello 2015: IL POGGIONE (97 WA) & IL MARRONETO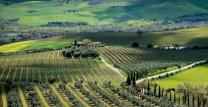 The best vintage since 2010, 2015 Brunellos are now starting to be released to much excitement.
The summer of 2015 was like 2010, sunny and warm with just enough rain to help the grapes get to perfect levels of ripeness, while cooler nights helped to preserve excellent acidity levels. Many winemakers are now also fine-tuning their work in the vineyard and the cellar, managing ripeness better and adjusting extraction towards a gentler style of winemaking. The hallmarks of 2015 then, are beautiful aromatics, opulent fruit on the palate, exceptional creaminess to their textures that mark them out. Structured energetic and long, '15s have the balanced richness to ensure a wide drinking window.
"The 2015 vintage is a historical year for Brunello di Montalcino that nobody should miss. The wines show impressive precision of vivid fruit, fine tannins and freshness in acidity despite their ripeness and richness which makes them some of the most exciting in years."
James Suckling
We are delighted to begin with Il Poggione 2015 - one of our favourite and most popular Brunello estates. A smart buy with the 2010 now at £380 a dozen, Il Poggione is consistently a standout value on release, with great quality at an affordable price. As wines are released we are sure that this will be seen as a must have purchase for Brunello lovers.
We also have small allocation to offer of the exceptional releases from Il Marroneto. Well worth serious consideration! Typically some of the most elegant and ageworthy Brunellos around, with a loyal following across the world, these are beautiful wines that represent the peak of quality in 2015. Allessandro Mori is a traditionalist based just north of the town of Montalcino. The 'Madonna delle Grazie' - a single vineyard bottling (just 1000-1150 cases in total production) is only made in the greatest vintages, but his straight Brunello is remarkable too, with beautiful aromatics, depth and vibrancy.
"This is another set of amazing wines by Alessandro Mori. Like in the unforgettable 2010 vintage, these expressions from 2015 stand out for their extreme purity."
Monica Larner

Please do let us know if you would like an allocation of the above limited releases. Priority for allocations of the Madonna delle Grazie will be given to customers ordering the straight Brunello.

---
IL POGGIONE, Brunello di Montalcino 2015
£280
per 12x75 IB / £360

per 6x150 IB

"The Il Poggione 2015 Brunello di Montalcino shows a darker and more concentrated appearance than many of its peers. The wine is beautifully abundant and fragrant in the most exuberant and expressive manner. You will recognize aromas of moist soil, tobacco and smoke. Candied cherry hovers over the entire bouquet. Fruit is sourced from older vines (all over 25 years old). Il Poggione occupies a special spot within the Montalcino appellation, and the area always produces slightly more concentrated and powerful wines. I find that to be particularly true in this gorgeous 2015 vintage. I am also very attracted to that almost dusty note of crushed mineral that rides long on the full-bodied finish. Il Poggione's Brunello is also distinguished by firm, youthful tannin that need a few more years to unwind. Drink 2021-2045."
97 Wine Advocate, Monica Larner

"So many sour cherries rise up from the glass, along with orange rind and lemon peel. The full-bodied palate has a very serious and concentrated core of florals and fruit, and the tannins have an iron-fisted, strapping build. Long, chewy and structured. One of the best in years from here. Drink from 2025."
96 James Suckling
---
IL MARRONETO, Brunello di Montalcino 2015

"You just can't beat the purity of the bouquet here: cherries, red licorice, blue flowers and currants. It's all stunning. Il Marroneto's 2015 Brunello di Montalcino opens to a light garnet color with faint ruby highlights. The wine never veers from its lanes, sticking to an absolutely traditional and fresh expression from the appellation. It offers a lean to medium-weight mouthfeel with radiant fruit flavors—think pure cherry fruit. Fruit is harvested from a five-hectare parcel at 300 meters above sea level with calcareous sand and Galestro soils. These conditions lead to the aromatic intensity of the wine, and that's the main takeaway in this classic vintage. There is a moment of softness that expands quickly over the palate. These results are graceful and gorgeous. Drink 2021-2038."
96+ Wine Advocate, Monica Larner
---
IL MARRONETO, Brunello di Montalcino Madonna delle Grazie 2015

"The Il Marroneto 2015 Brunello di Montalcino Madonna delle Grazie creeps up on you slowly. Give this wine ample time to open and put on weight and volume. Or better yet, just stick the bottle in your cellar for a few more years. Fruit comes from a 1.6-hectare parcel at 420 meters above sea level. This site, located just below the Madonna delle Grazie chapel, has sandy mineral-rich soils. This wine is very different from the Alessandro Mori's classic Brunello. Here, you get that beautiful purity in the bouquet, but you also get a different mouthfeel that is characterized by more structure and a firmer set of tannins. However, the overall integration is superior here considering that this wine is richer and has more material and overall density. Cherry, grenadine and cassis are followed by jasmine and even a touch of exotic fruit. As the wine opens, you catch a hint of mesquite or hickory smoke. Some 7,040 bottles were made. Drink 2022-2045."
98+ Wine Advocate, Monica Larner

---
Contact us to enquire or register your interest. Limited quantity available. Available In Bond, UK.