SOUTHERN RHONE 2017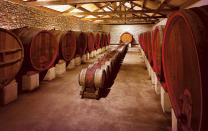 Recent in bottle reviews from Jeb Dunnuck, the Wine Advocate and Vinous have confirmed the excellent quality of the 2017 vintage in Southern Rhone.

Low yields from tiny concentrated berries have resulted in siginifcantly less quantity than usual but the powerful, ripe, ageworthy 2017s are sure to delight lovers of Rhone. We can now offer our last few cases from this compelling vintage, all in stock and immediately available.
"2017 is a terrific vintage throughout the Southern Rhône
. The wines offer rich, powerful, incredibly Provençal styles that resemble more elegant examples of the 2009s or even fresher, more focused examples of the 2007s. The tiny yields (and small berries due to drought) were a critical factor in the vintage as the vines were able to better cope with the hydric stress experienced during the summer months compared to if there had been a larger crop load and a higher demand on the vines. This goes a long way towards explaining the concentration, phenolic ripeness, structure, and depth found in the wines."
Jeb Dunnuck, jebdunnuck.com, Sep 2019
"2017 is shaping up to be a hypothetical blend of the two vintages that preceded it. The wines show lots of the richness of the 2016s along with some of the structure that marks the 2015s. It is unquestionably a high-quality year for the region, and a number of wines that I've tasted can compete with the same producers' 2016s and '15s, if in a somewhat darker guise."
Josh Raynolds, vinous.com, Dec 2019
---
SOUTHERN RHONE 2017
VIEUX DONJON, Chateauneuf du Pape 2017
£320

per 12x75 IB


"eclipses the 2016, this is a top-flight effort. Black cherries and red raspberries combine with dried spices in a complex swirl of fruity and savory elements, garnished with sprigs of garrigue. Full-bodied, round and rich, this velvety wine should drink well through at least 2035."
95 Wine Advocate

(95+ JD)



CLOS DES PAPES, Chateauneuf du Pape 2017
£660

per 12x75 IB /

£335

per 3x150 IB


"This beauty has everything you could ask for... a mammoth bouquet of black cherries, graphite, cured meats, Asian spices, and assorted garrigue-like nuances. Deep, full-bodied, and concentrated, it stays straight and focused on the palate... ripe, silky tannins, and fabulous length. You're going to want bottles of this in the cellar, and comparing the 2007, 2010, 2016, and 2017 over the coming two decades is going to be a treat."
98+ Jeb Dunnuck

(96 WA)



BEAUCASTEL, CDP Hommage Jacques Perrin 2017
£800

per 3x75 IB /

£1170

per 1x300 IB


"On another level, the brilliant 2017 Châteauneuf Du Pape Hommage A Jacques Perrin is just about all Mourvèdre... full-bodied richness, a stacked, opulent mid-palate, building tannins, and a sensational finish, it's another perfect wine from this team and is unquestionably in the same realm as the 2000, 2001, 2005, 2007, 2009, 2010, and 2016."
100 Jeb Dunnuck

(97-100 WA)



SAINT COSME, Gigondas Le Claux 2017
£360

per 6x75 IB


"Just about perfection in a glass, the 2017 Gigondas Le Claux got a few expletives in my notes. Made from 100% Grenache from a loamy, limestone parcel that's a stone's throw from the estate, just outside the village, it boasts a deep purple color as well as stunning notes of kirsch, cassis, camphor, dried earth, ground pepper, and background oak. Deep, powerful, full-bodied and multi-dimensional on the palate, this blockbuster Gigondas is going to benefit from 2-4 years of bottle age (or more) and cruise for two decades in cool cellars."
98 Jeb Dunnuck

(94 WA)



SAINT COSME, Gigondas Hominis Fides 2017
£360

per 6x75 IB


"The 2017 Gigondas Hominis Fides plays in the same realm. As with the Le Claux, it's all Grenache, not destemmed, and was brought up in roughly 30% new Burgundy barrels. Blackberries, freshly ground pepper, light gunpowder, and crushed rock notes all define the bouquet, and it's full-bodied, powerful and concentrated on the palate. Possessing incredible elegant and ultra-fine tannins, this beauty just glides over the palate with no hard edges. Nevertheless, it has loads of structure and will benefit from 2-4 years of cellaring."
98 Jeb Dunnuck

(95 WA)
---
Contact us to enquire or register your interest. Limited quantity available. Available In Bond, UK Immediately.