DOMAINE FONTAINE-GAGNARD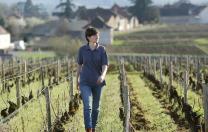 Domaine Fontaine-Gagnard has a well deserved reputation for producing some of the finest white Burgundies available. It boasts an enviable array of Grands Crus and Premiers Crus holdings in Chassagne Montrachet including one of the largest parcels of the smallest Grand Cru (1.57 ha) in the Cote de Beaune, Criots Batard Montrachet.
The Domaine was established in 1985 when Richard Fontaine, a former air force engineer, married Laurence Gagnard and took over half of the Gagnard family holdings. They are now very ably assisted with the winemaking by their talented daughter Celine.
"I've been smitten by the wines of this Chassagne producer ever since winemaker Celine Gagnard poured me a hauntingly beautiful Criots-Batard-Montrachet in London"
Neal Martin
Prices remain relatively modest by top Burgundy standards and we are delighted to offer several vintages of the stunning Criots Batard Montrachet. These are beautifully balanced, intense, deep and complex wines that reflect their exceptional terroir.
"one of the very best sources from this tiny Grand Cru"
Clive Coates MW
---
Contact us to enquire or register your interest. Limited quantity available. Available In Bond, UK Jan 2020.
Vintage
Name
Size
Cs
Bt
GBP Price
Per

Actions

scores
WA
VIN
BU
JR
DEC
2015
Criots Batard Montrachet, Fontaine Gagnard
75cl
-
6
£1,920
CS (12)
[Add to shopping basket]
92-94
91-93
93
-
-
2014
Criots Batard Montrachet, Fontaine Gagnard
75cl
-
6
£1,980
CS (12)
[Add to shopping basket]
-
90-93
94
-
-
2013
Criots Batard Montrachet, Fontaine Gagnard
75cl
-
6
£1,650
CS (12)
[Add to shopping basket]
-
92
93
-
-
2012
Batard Montrachet, Fontaine Gagnard
75cl
-
6
£1,750
CS (12)
[Add to shopping basket]
93
93
93
-
-
2011
Batard Montrachet, Fontaine Gagnard
75cl
-
-
£1,800
CS (12)
[Add to shopping basket]
94
90
94
-
-
2010
Batard Montrachet, Fontaine Gagnard
75cl
-
-
£2,100
CS (12)
[Add to shopping basket]
96
-
95
-
-