2017 VINTAGE PORT RELEASE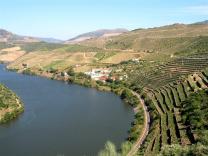 We can now offer the exceptional 2017 Vintage Ports, large-scale opulent Ports from a hot and sunny year, the earliest harvest since the great 1945 with a near-identical growing season.
"Port producers are comparing 2017 with the legendary 1945 and after recently tasting a few bottles of the more recent vintage, I think the comparison is reasonable."
James Suckling

2017 follows the outstanding 2016s: both very high quality but markedly different years. Compact berries in 2017 have produced a traditional, "old school" style of Vintage Port. Where 2016 was outstanding in its elegance and vivid fruit expression, 2017 is is deeply concentrated with complex layers of rich fruit and powerful tannins, with great ageability.
"
Quite rightly, those that splashed out on 2016 will want to know why they should open their wallets again. Well, the answer is clear when you taste them: whereas the leitmotifs of 2016 are elegance and finesse,

2017 is more about structure and intensity.

The 2017s are more hedonistic than their 2016 counterparts and yet the startling aspect of these Ports is their freshness.

Theoretically the heat of summer ought to have sapped the wines of their brightness and acidity, yet it is clearly locked in and there is plenty of tension. The result is a number of very intense though not exotic Ports, in that they avoid hedonism and there is no loss in typicity."
Neal Martin, Vinous
The pair of 2016/2017 vintages is a rare event, the first back-to-back declaration in decades for most Port houses, and the first since 1882 for the Symington family who own Graham, Warre, and Dow. Yields here were very low, making 2017 the smallest declaration of the 21st century. Volumes are significantly lower than in 2016 (by around one-third) so please us know your requests as soon as possible.

Limited quantities so please let us know ASAP if you like to place an order.
---
Vintage Port 2017 available August/September 2019.
Contact us to enquire or to place an order.
---