TAYLOR'S & GRAHAM'S VERY OLD SINGLE HARVEST TAWNYS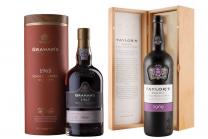 NEW RELEASES

We are delighted to offer a couple of exciting new releases from two of the finest Port houses; Taylor's and Graham's.
Aged for 50+ years in seasoned oak these single vintage tawny ports show an aged character that is quite different from vintage port. Although considered perfect to drink on release both have many immensely pleasurable years ahead.
"It is hard to go wrong with any of the wines Taylor's has been releasing in this series—they all have something special to offer. We can debate endlessly which is better?"
Mark Squires, Wine Advocate
---
1963 GRAHAM'S SINGLE HARVEST TAWNY PORT
£1115 per 4x75cl IB
In 1963 Martin Luther King Jr. delivered his historic "I have a dream" speech, John F Kennedy was assassinated and Beatlemania was taking grip with the band achieving their first ever UK number 1 with "From Me To You". It was also one of the most celebrated vintages of the twentieth century for Port and the "glorious" Graham's 1963 Single Harvest Old Tawny demonstrates exactly why. This exceptional old tawny Port has been aged for more than half a century in seasoned oak casks at their lodge just outside of Porto allowing it to develop an incredible aromatic complexity, elegance and balance.
98 James Suckling "This is glorious. Superb depth and finesse with balance and density that are so fitting for the greatness of the legendary 1963 vintage. Full-bodied, very sweet yet focused and showing just a hint of tannins. Very long and sweet on the finish. Love the complexity and subtlety of caramel, butterscotch and hints of dried fruits. Fantastic. Drink now."
96 Mark Squires, Wine Advocate "The 1963 Single Harvest Tawny Port, not yet bottled when seen and set for release in 2019, is a field blend that comes in with 127 grams of residual sugar. A very different wine stylistically than the overachieving 1994, this isn't as rich in a way, but it has a few cards up its sleeve. It adds more of that wonderful complexity that great old Tawnies acquire—molasses, dark chocolate, seared caramel. It's rather fresh for the age too. It has plenty of power and fine acidity supporting the fruit as well. This is pretty beautiful. It will last indefinitely, barring cork failure."
19.5 Jancis Robinson "Charles admits it's difficult to say which he prefers (vintage or tawny); I think I prefer the old tawny. Firm finish, very fresh and lively. Some light astringency on the end. Less sweet and smooth than the vintage wine but very powerful. Very long indeed. Very sweet start and then a dry, fresh finish. Lots of freshness."
---
1969 TAYLOR'S VERY OLD SINGLE HARVEST PORT
£780 per 6x75cl IB
The 1969 Taylor's Very Old Single Harvest Port is just the sixth release from Taylor's extensive cask reserves and it is only available in very limited quantities. Tasted in the office it is beautifully smooth, rich and mellow with notes of walnut, coffee, caramel and an unctuous mouth coating texture. The archetypal Port house, it is easy to see why Robert Parker once described Taylor's as "the Latour of Portugal". This 50 year old wine is in perfect condition, a great collectors' item and the perfect gift for a landmark anniversary or birthday.
Producer Note "Deep mahogany colour with discreet olive highlights on the rim. Very fine, elegant nose, with an opulent core of wild honey, treacle and butterscotch infused with a spicy redolence of black pepper and cinnamon. Cedary cigar box aromas, savoury scents of wild herbs and a discreet aura of fresh mint add a further layer of complexity. The perfectly calibrated palate is lifted by a fresh acidity and delivers a wealth of rich mellow flavour, molasses, dried figs, sultanas and apricot confit. The finish is clean and bright, with ripe pear and mint and very discreet zesty citrus notes."
Available for delivery in March
---
For enquiries please email the team or order below.