2016 ST DAMIEN GIGONDAS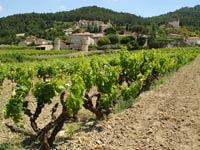 A reference point for traditional Gigondas.

Just down the road from Chateauneuf du Pape, Gigondas offers ripe and perfumed Grenache-based reds, at a significant discount to its more famous cousin. We are very pleased to offer the 2016s from Domaine Saint Damien, some of the best expressions of Gigondas. A small family-owned and run Domaine, the Saurel family make three wines : two single vineyard and an old vines cuvee which is a blend.

"At Domaine Saint Damien, there are four Gigondas cuvées, although the Clovis Saurel isn't bottled every year. It's a small, family domaine with the magnificently mustachioed Joël Saurel at the helm, although son Romain is increasingly confident in the winery. This is a reference point for traditional Gigondas"
Joe Czerwinski, robertparker.com
These wines receive great scores and offer fantastic value for money! We can also offer limited quantities of the excellent 2015s which are immediately available.

---
2016 Gigondas Vieilles Vignes, Saint Damien
£165 per 12 IB

94-96 Jeb Dunnock
"The 2016 Gigondas Vieilles Vignes may be the real value play here (although these all over deliver for the humble prices they go for) and comes from a mix of estate vineyards. It offers a full-bodied, thick, unctuous style that just begs to be drunk. Blackberries, black raspberries, peppery herbs, wood smoke and ample gravelly, earthy minerality,

it's another killer wine from this estate

."
2016 Gigondas Cuvee Les Souteyrades, Saint Damien
£205 per 12 IB

94-97 Jeb Dunnuck
"The first line on my note for the 2016 Gigondas Les Souteyrades was "Crazy good!". This cuvee is always one of the most exuberant and exotic of the Gigondas releases and the 2016 doesn't disappoint with its huge nose of blueberries, orange rind, crushed rocks and exotic flowers.

It's a full-bodied, opulent beauty that's going to be up with the crème de la crème of the vintage."
2016 Gigondas Cuvee La Louisiane, Saint Damien
£205 per 12 IB

95-97 Jeb Dunnuck
"The 2016 Gigondas Cuvee Louisiana is

more elegant and finesse-driven

when tasted side by side with the La Souteyrade cuvee. Offering notes of blueberries, violets, lavender and flowers, it hits the palate with

full-bodied richness, serious depth of fruit, ripe tannin and a big finish.

"
---
Wines available Autumn 2018. Delivery if required will be charged at cost.

Offer subject to final confirmation. E&OE.