2016 GRAHAM'S, TAYLOR, FONSECA WARRE, DOW, CROFT...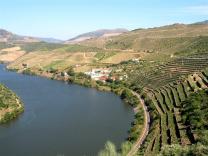 "elegance and poise, a wonderful purity of fruit"
A Port Vintage is declared only 2 to 3 times a decade. Having tasted the range of 2016s last week, it is no surprise to us that the vintage 2016 has been universally declared by the major Port houses - the first time since the stunning 2011s.

Conditions were perfect for the 2016 vintage and some stunning wines have been produced.



We can now offer; Taylor's, Fonseca and Croft from the Taylor Fladgate Partnership and Graham's, Dow, Warre, Cockburn, Quinta do Vesuvio and Smith Woodhouse from Symington Family Estates.

"these are the best vintage ports I have ever made"
Charles Symington, Head Winemaker
"The vintage Ports of the three houses are stylistically distinct but all display elegance and poise, a wonderful purity of fruit and tannins of great quality... Yields at the harvest were below average. The amount of 2016 vintage Port offered will be relatively restricted and allocations will be tight. The 2016s are likely to become rarities in future, particularly given the trend towards enjoying vintage Ports young."
Adrian Bridge, Managing Director
Fladgate Partnership
Overall, the quality of the vintage is very high indeed with lovely aromatics and depth of flavour and intensity. Tannins are ripe, refined and smooth providing serious structure, underpinned by fresh acidity that make these ports a pleasure to taste. With consistent quality across the board, this is a vintage to get excited about.

Quantities are around 15-20% lower than the last vintage declaration, (probably half of what used to be made in the 80's) so we expect these to sell quickly.
"The 2016 vintage may prove to be a modern legend for vintage Port… fantastic depth and concentration yet at the same time they show a sheer tannin backbone that gives them great form and class. They have a cooler, less ripe nature to them compared to the extremely rich 2011s, 2003s and 2000s. The 2016s seem more in line with the racier 2007s but perhaps with slightly more intensity... Maybe the 2016 is the new 1963 — a legendary year that was always admired for its balance and strength. "
James Suckling
"Buy with confidence. There is a lot of good drinking here."
Mark squires, Wine Advocate

"If you were to write a recipe which included the finest ingredients possible to make a perfect vintage Port, then the 2016 vintage had each component in abundance."
Matthew Jukes
Wines available Autumn 2018. Delivery if required will be charged at cost.

Offer subject to final confirmation. E&OE.