CHATEAU MUSAR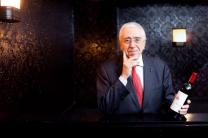 "It really was a thrill to see how beautifully these wines age"

Often referred to as 'the Lafite of Lebanon', Chateau Musar recently arranged a very special tasting for Jancis Robinson MW showcasing half a centruy of releases from this historic estate. Jancis was blown away by the ageability of the wines

comparing many to beautfully aged Bordeaux whilst highlighting their excellent value

. The full notes and article can be viewed on the excellent JancisRobinson.com .

The older vintages are gems; the 1970 was rated outstanding by Michael Broadbent and even likened to Petrus! We recently enjoyed a bottle of the rich and elegant 2000 in the office - an absolute bargain at £25 per bottle including taxes.


"It really was a thrill to see how beautifully these wines age. When tasted young, they can sometimes seem a tad coarse and unruly, but with a bit of bottle age, the reds mellow into extremely serious, well-made wines... It was remarkable how long they lasted in opened bottles - even the oldest of them. The reds, blends of supposedly equal parts of Cabernet, Cinsault and Carignan, ended up tasting like particularly rich, spicy red bordeaux after many years in bottle...

In general the older Musar wines are real bargains - particularly vintages 1998 to 2008, all of them drinking extremely well now

"
Jancis Robinson MW, www.Jancis Robinson.com

We are delighted to offer a great selection of the wines; from the "silky,long and elegant" 1997 through to the recently released 2011 - the last vintage completely overseen by the late Serge Hochar. Older vintages may be available on request - please enquire for details.

All of the wines are coming directly from the Chateau cellars.



---
All prices shown include UK duty (but exclude VAT)
2011 Chateau MUSAR

£115 per 6x75cl
17 "Fairly deep ruby. A denser, more concentrated, linear nose than the 2010 served alongside. A certain dustiness of aroma. This seems more obviously Cabernet than most Musar reds. Still quite youthful..." Drink 2020-2034
2010 Chateau MUSAR

£130 per 12x37.5cl / £140 per 3x150cl
18 "Bright ruby. Heady, rich and gamey on the nose. Very hedonistic and accessible on the nose with real density and lifted slight gaminess. An attractive singed character on top of very ripe fruit. Great balance and freshness..." Drink 2018-2028
2000 Chateau MUSAR

£135 per 6x75cl
Tasted recently in the office the 2000 has a gorgeous nose of dark bramble and cherry fruits. Very rich on the palate with sweet tarry black fruit, light spice, dark cocoa and earth. Elegant and well structured with soft supple tanins.
1999 Chateau MUSAR

£140 per 6x75cl
18.5 "Still evolving but beautifully balanced. Lots of energy and transparency. No heaviness at all. Rich but lifted. Already gorgeous but there are tannins behind the exotic fruit and brilliant freshness. Still quite youthful." Drink 2016-2036


1998 Chateau MUSAR

£275 per 12x75cl / £275 per 24x37.5cl
18.5 "Sweet start and very nicely mature. Seems just right now. The opposite of heavy. Lifted, jewel-bright. Really lovely wine. Fresh, sweet with some very slight mintiness. Dry finish and it would go beautifully with food. Very long. One of my favourite wines in this collection." Drink 2012-2030


1997 Chateau MUSAR

£145 per 6x75cl
17.5 "Beautifully scented with the Cinsault (an orange character) and not dominated by the Cab. Silky. elegant and long. Perfumed but not floral. Silky, fresh and perfectly clean. Transparent. Fine, dry texture but so elegant. Utterly delicious and juicy and totally de nos jours." Drink 2007-2025
---
Wine available May 2018. Delivery if required will be charged at cost.

Offer subject to final confirmation. E&OE.