BURGUNDY 2016: Taupenot-Merme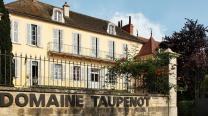 Romaine Taupenot is one of the rising stars of the region, now responsible for the family holdings in Gevrey Chambertin and Morey St Denis. Romain's aim is for the wines to express their terroir rather than a house style. His decision to bottles his two Grands Crus, Charmes & Mazoyeres Chambertin separately was a good one, as he is now considered one of the key producers of the latter cru. The Gevrey 1er Cru Bel Air is a wine to take note of, from 45 year old vines that sit directly above Chambertin Clos de Beze on on the same limestone soils as Clos de Ruchottes.

"Romain Taupenot has been behind the ascent of Taupenot-Merme in recent years. It is almost as if fashion has caught up with them, traditionally furrowing their own path of slightly leaner, terroir-driven wines that were as much about texture as fruit, now many growers have changed back more to this style. Meanwhile, I think Romain has refined the quality here in recent years… Taupenot-Merme remains one of the best producers based in Morey-Saint-Denis. If there is one wine that attests to that, it is their splendid Morey-Saint-Denis Village, everything you could want from a village cru, and a bit more"
Neal Martin, Wine Advocate
---
PLEASE NOTE: Wines are priced per 12x75 but most may be ordered packed as 6x75cl.

Wine offered En Primeur excluding duty and VAT. For enquiries please

email the team

or order below. Offer subject to final confirmation. E&OE.
Vintage
Name
Size
Cs
Bt
GBP Price
Per

Actions

scores
WA
VIN
BU
JR
DEC
2016
Charmes Chambertin, Taupenot-Merme
75cl
2
-
£1,470
CS (12)
[Add to shopping basket]
91-93
-
90-93
-
-
2016
Corton Rognets, Taupenot-Merme
75cl
-
-
£1,150
CS (12)
[Add to shopping basket]
91-93
-
91-93
-
-
2016
Gevrey Chambertin, Taupenot-Merme
75cl
5
-
£400
CS (12)
[Add to shopping basket]
88-90
-
89-91
16-17
-
2016
Gevrey Chambertin Bel Air 1er Cru, Taupenot-Merme
75cl
2
-
£880
CS (12)
[Add to shopping basket]
91-93
-
89-92
17
-
2016
Mazoyeres Chambertin, Taupenot-Merme
75cl
3
6
£1,590
CS (12)
[Add to shopping basket]
93-95
-
91-94
17-18
-
2016
Mazoyeres Chambertin, Taupenot-Merme
150cl
3
6
£1,650
CS (6)
[Add to shopping basket]
93-95
-
91-94
17-18
-
2016
Morey St Denis La Riotte 1er Cru, Taupenot-Merme
75cl
1
6
£790
CS (12)
[Add to shopping basket]
91-93
-
90-92
16-17
-