Big Beautiful Bordeaux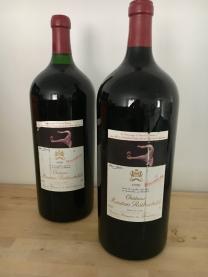 Often hard to find with age, we can now offer a great selection of large format Bordeaux including some excellent ex-chateau stock.
The collection contains magnums of the "Stylish and opulent"

Haut Bages Liberal 2005

, a Jeroboam of

Lynch Bages 2000

("one of the all time greats" RP) and imperials of

Mouton Rothschild 1990

. Many of these have just arrived in stock and will make the ideal gift or party centrepiece - we never fail to be impressed by a big bottle of beautifully aged Bordeaux!
---
For all enquiries please

email the team
. Offered subject to final confirmation. E&OE.
Vintage
Name
Size
Cs
Bt
GBP Price
Per

Actions

scores
WA
VIN
BU
JR
DEC
2012
Haut Bailly
150cl
2
6
£625
CS (6)
[Add to shopping basket]
94
-
-
16-17
-
2012
Issan
150cl
-
-
£440
CS (6)
[Add to shopping basket]
95
-
-
17
-
2009
Beausejour Duffau
150cl
1
-
£3,300
CS (6)
[Add to shopping basket]
100
-
-
16-17
-
2009
Domaine de Chevalier Rouge
150cl
-
-
£600
CS (6)
[Add to shopping basket]
95
-
-
17-18
-
2009
Haut Bailly
150cl
-
-
£1,950
CS (6)
[Add to shopping basket]
98
-
-
16
-
2009
Issan
150cl
-
-
£95
BT
[Add to shopping basket]
93
-
-
17
17-18
2009
Lanessan
150cl
-
-
£200
CS (6)
[Add to shopping basket]
89
-
-
16
16
2007
Pontet Canet
Double Magnum (3L)
-
6
£610
CS (3)
[Add to shopping basket]
91
-
-
16
-
2006
Domaine de Chevalier Rouge
150cl
-
-
£450
CS (6)
[Add to shopping basket]
92
-
-
17
-
2006
Leoville Poyferre
Double Magnum (3L)
-
-
£640
CS (3)
[Add to shopping basket]
91
-
-
17
-
2006
Montrose
Double Magnum (3L)
-
-
£750
CS (3)
[Add to shopping basket]
94
-
-
17
-
2006
Pichon Baron
Imperial (6L)
3
-
£750
BT
[Add to shopping basket]
91
-
-
17
-
2006
Pichon Lalande (Ex Chateau)
150cl
3
-
£1,100
CS (6)
[Add to shopping basket]
95
-
-
16
-
2005
Haut Bages Liberal
150cl
-
-
£340
CS (6)
[Add to shopping basket]
90
-
-
16
-
2005
Haut Bailly
Double Magnum (3L)
-
-
£1,100
CS (3)
[Add to shopping basket]
95
-
-
17
-
2005
Meyney
150cl
-
-
£370
CS (6)
[Add to shopping basket]
86
-
-
17
-
2005
Rauzan Segla (Ex Chateau)
150cl
-
-
£960
CS (6)
[Add to shopping basket]
94
-
-
16
-
2003
Margaux
Double Magnum (3L)
-
1
£1,800
BT
[Add to shopping basket]
98
-
-
16-17
-
2001
Petrus
150cl
-
-
£4,000
BT
[Add to shopping basket]
95
-
-
-
-
2000
Lynch Bages
Jeroboam (5L)
-
-
£1,650
BT
[Add to shopping basket]
97
-
-
-
-
2000
Marquis de Terme
150cl
-
-
£70
BT
[Add to shopping basket]
87
-
-
17
-
1999
Gruaud Larose
Double Magnum (3L)
-
-
£280
BT
[Add to shopping basket]
89
-
-
-
-
1999
Gruaud Larose
Jeroboam (5L)
-
-
£480
BT
[Add to shopping basket]
89
-
-
-
-
1997
Langoa Barton
Imperial (6L)
-
-
£320
BT
[Add to shopping basket]
84
-
-
-
-
1997
Leoville Barton
Imperial (6L)
-
-
£450
BT
[Add to shopping basket]
86
-
-
-
-
1997
Rol Valentin
150cl
-
-
£300
CS (6)
[Add to shopping basket]
-
-
-
-
-
1996
Pichon Lalande
150cl
-
-
£2,050
CS (6)
[Add to shopping basket]
96
-
-
18
-
1995
Calon Segur (Ex Chateau)
150cl
-
-
£970
CS (6)
[Add to shopping basket]
94
-
-
17-18
-
1994
Grand Puy Lacoste (Ex Chateau)
Imperial (6L)
-
-
£440
BT
[Add to shopping basket]
-
-
-
-
-
1990
Mouton Rothschild
Imperial (6L)
-
-
£3,000
BT
[Add to shopping basket]
84
-
-
-
-
1985
Lafite Rothschild
150cl
-
-
£1,050
Mag
[Add to shopping basket]
93
-
-
17-18
-