New Releases: Gran Enemigo 2013 Gualtallary 99 JS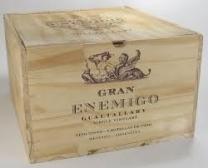 Set in the foothills of the Tupungato volcano, one of the highest peaks of the Andes, Gualtallary is now recognised as one of Argentina's best wine-growing regions. The cool, breezy climate, wide range in temperature and chalky, rocky soils gives exceptionally healthy grapes and wines of good structure and acidity. The winemaker of Catena Zapata, Alejandro Vigil began his own project here with Adrianna Zapata, focusing on making unusual, often experimental, wines under the "El Enemigo" label.
"Alejandro Vigil continues producing amazing wines under the brand El Enemigo (the enemy), including some of the best Cabernet Franc produced in Argentina. These wines seem to have created some kind of hype around the variety... great terroir wines. A must if you want to understand Argentina's potential."
Luis Gutierrez, Wine Advocate
The wines are not based on the more widely-planted Malbec or Cabernet Sauvignon, but instead on Cabernet Franc. A major component in Saint Emilion and Pomerol, Cab Franc is poised to become the next big grape: it has been described as "the Chanel No. 5 of wine": more aromatic than Cabernet Sauvignon, perfumed with raspberry, violet and cocoa - with lift and elegance rather than power.
We are pleased to offer the newly released 2013s from Gran Enemigo - a mere 1800 bottles are produced of the single vineyard Gualtallary.
"

Alejandro produces exceptional wines that encapsulate Mendoza's diverse soils, microclimates, and grape types. The winery earned its highest rating yet this year with a 99-point El Enemigo Cabernet Franc Gualtallary Gran Enemigo Single Vineyard 2013

"
Wine offered In Bond (IB) excluding duty and VAT. For enquiries please

email the team



Offer subject to final confirmation. E&OE.