NEW: Krug Grande Cuvee 164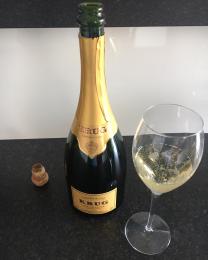 The 164th edition of Krug's prestigious Grande Cuvee is now available.

Based on the excellent 2008 vintage - regarded alongside the great 2002 as the best Champagne vintage of the decade – Edition 164 is a multi-vintage blend: composed from 127 wines from 11 different years, from 2008 back to 1990 (with 9 vintages in between). The age of the blend imparts a richness and depth in aromas and flavours that make Grande Cuvée unique in Champagne, beyond the notion of vintage.


"Krug's NV Grand Cuvée 164 Edition is

a total knockout. Based on the 2008 vintage, the 164th Edition shows all the crystalline tension and energy that is such a signature of the year.

At times, the 164 reminds me of the 2008 vins clairs I tasted after harvest. The flavors are brisk, delineated and pulsing with energy, while the more oxidative notes that are such a signature of Krug Champagnes are not especially evident. A wine of total pedigree and class, the 164 reminds me of some of the great Grand Cuvées of the 1960s and 1970s I have been lucky to taste over the years.

No Champagne lover will want to be without this spectacular, captivating wine.

"
97pts Antnoio Galloni, July 2017
Kept for a few years, with bottle age, Grande Cuvee competes with the very best vintage Champagnes, and can often surpass them. When 2002 Krug was released, it was shown next to Grande Cuvee based on the 2002 vintage (sadly no longer available). In the glass Grande Cuvee was singing, showing more complexity and depth than its counterpart made from a single vintage.
"Krug's Grand Cuvee reinforces the belief that, thankfully, even wine lovers of modest means who occasionally splurge on Krug Grande Cuvee will be rewarded with a wine that need not fear comparison with this house's more limited and far more expensive bottlings, nor for that matter with any other wines of Champagne. The harmonious juxtaposition of creaminess and lees enrichment with bright, juicy citricity and of expansive richness with levity is stunning."
Wine Advocate on Krug Grande Cuvee, November 2013
Background


The House of Krug was founded in 1840 by Joseph Krug with the aim of making the richest, most generous expression of Champagne consistently, not only in vintage years. Krug use their best juice to enrich their flagship Grande Cuvee, considered equal in quality to a Krug vintage. Krug has found many fans including Madonna, Ernest Hemingway, Sir Alec Guinness, Karl Lagerfeld, & John Le Carré, and its rich fruit and nutty dry complexity goes just as well with food as without.
Wine offered In Bond (IB) excluding duty and VAT. For enquiries please

email the team



Offer subject to final confirmation. E&OE.