NEW RELEASE: 2008 Vina Ardanza Reserva, La Rioja Alta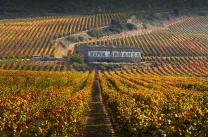 The 2008 vintage is the latest release of La Rioja Alta's flagship wine, the Vina Ardanza Reserva, which this year celebrates its 75th Anniversary (1942-2017). A blend of 80% Tempranillo and 20% Garnacha, 2008 is the first vintage where the Garnacha comes from La Pedriza in Tudelilla, the estates own vineyard. Winemaker Julio Saenz believes La Pedriza "offers unbeatable conditions for growing this variety. Its nutrient-poor soil, covered with boulders, results in low grape yields and significant varietal typicity, rich in aromas, with a pleasant, elegant structure".
"Great Rioja, as traditional as it gets, in good quantity and moderate (and often plain great) prices"

Luis Gutierrez on La Rioja Alta

"Quite simply, these are some of the finest Riojas that can grace your cellar"
Neal Martin on La Rioja Alta
This is a classic Rioja that is already drinking deliciously with the Garnacha providing rich gamey notes that will improve with age. The "Opulent and delicious" 2008 Vina Ardanza (94pts JS) offers exceptional value and is available in bottles and magnums. We can also still offer the "Great value for money" 2007 Vina Ardanza with an impressive 94 points from the Wine Advocate.

"Thanks to exceptional weather throughout the growing cycle, the grapes remained in magnificent condition, with excellent balance of alcohol and acidity. The Garnacha in our La Pedriza estate particularly benefited from the longer ripening phase, and we were able to harvest slowly and selectively, allowing us to pick each plot as the grapes attained the perfect level of ripeness."
Winemaker Julio Saenz on the 2008 vintage, Decanter.com
---
2008 VINA ARDANZA RESERVA, LA RIOJA ALTA
"

Aromatic nose of dried strawberries and flowers follows through to a full body, soft and velvety tannins and a long and flavorful finish.

Opulent and delicious yet refined

. Drink now."
94pts James Suckling, December 2016
"

Using Garnacha from the winery's own vineyards in Tudelilla (Rioja Baja) for the first time,

this is exactly what a traditional pan-regional Rioja blend should taste like

, with 80% Tempranillo making up the balance. Elegant, sweet and aromatic, it's light, refined and slightly gamey, showing the freshness of a cooler vintage."
94pts Tim Atkin MW
"

Vintages for Viña Ardanza seem to be going fast. It seems like yesterday that the 2001 was released and now the 2008 Viña Ardanza is already here. This is the first vintage when they have been able to use the fruit from their new Garnacha vineyards in the village of Tudelilla (Rioja Baja), La Pedriza, which represents 20% of the blend complementing the majority of Tempranillo. The wine was put in barrel in March 2009, separately; the Tempranillo was in four-year-old barrels for 36 months with six rackings, and the Garnacha in second and third use barrels for 30 months with five rackings. Vintages might go fast, but the wine does not feel too young, which was my fear. There are notes of stewed meat, cured leather, cloves, other spices and an overall balsamic character. The palate feels solid, consistent, nicely built, with abundant tannins and good balancing acidity. This should stand up to food and be able to develop in bottle."
93pts Luis Gutierrez, Wine Advocate, August 2016

---
Ready to deliver Summer 2017. Wine offered In Bond (IB) excluding duty and VAT. Offer subject to final confirmation. E&OE. For enquiries please email the team