Private Burgundy Collection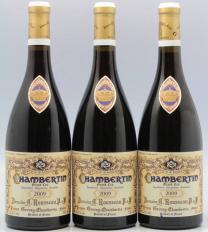 We are delighted to offer an enviable ensemble of Burgundy from a private UK collector. These were all purchased on release and have been stored in bond in the UK ever since.
There is a great selection offered here from many of the regions leading producers including Domaine de la Romanee Conti, Georges Roumier, Rousseau, Sylvain Cathiard, Domaine Leflaive (including lots of the exceptional 2010s) and Comtes Lafon. Please let us know of your interest.
"truly exceptional even by the elevated standards of Leflaive"
Allen Meadows on the 2010s
Please note - most are packed in 6 bottle original cases even if they are listed as 12's below.
Wine offered In Bond (IB) excluding duty and VAT. For enquiries please

email the team



Offer subject to final confirmation. E&OE.
Vintage
Name
Size
Cs
Bt
GBP Price
Per

Actions

scores
WA
VIN
BU
JR
DEC
2009
Meursault Charmes, Comtes Lafon
Bottles
-
-
£1,800
CS (12)
[Add to shopping basket]
-
-
93
16-17
-
2009
Montrachet, Comtes Lafon
Bottles
-
-
£1,080
BT
[Add to shopping basket]
96
-
94-97
18
-
2013
Macon-Verzé, Leflaive, Domaine
Bottles
-
-
£250
CS (12)
[Add to shopping basket]
-
-
-
-
-
2010
Bourgogne Blanc, Leflaive, Domaine
Bottles
-
-
£450
CS (12)
[Add to shopping basket]
90
-
-
-
-
2010
Chevalier Montrachet, Leflaive, Domaine
Bottles
-
-
£5,700
CS (12)
[Add to shopping basket]
95
-
97
-
-
2010
Puligny Combettes 1er Cru, Leflaive, Domaine
Bottles
-
-
£2,200
CS (12)
[Add to shopping basket]
94
-
91-94
-
-
2010
Puligny Folatieres 1er Cru, Leflaive, Domaine
Bottles
-
-
£1,900
CS (12)
[Add to shopping basket]
93
-
-
-
-
2010
Puligny Montrachet, Leflaive, Domaine
Bottles
-
-
£990
CS (12)
[Add to shopping basket]
90
-
90
-
-
2010
Puligny Pucelles 1er Cru, Leflaive, Domaine
Bottles
1
-
£2,580
CS (12)
[Add to shopping basket]
95
-
94
-
-
2009
Batard Montrachet, Leflaive, Domaine
Bottles
1
-
£4,300
CS (12)
[Add to shopping basket]
96
-
95
-
-
2009
Montrachet, Leflaive, Domaine
Bottles
-
-
£5,500
BT
[Add to shopping basket]
96
-
94-97
-
-
2008
Batard Montrachet, Leflaive, Domaine
Bottles
-
-
£3,980
CS (12)
[Add to shopping basket]
-
-
96
-
-
2008
Bienvenues Batard Montrachet, Leflaive, Domaine
Bottles
-
-
£2,980
CS (12)
[Add to shopping basket]
-
-
91-94
-
-
2008
Puligny Combettes 1er Cru, Leflaive, Domaine
Bottles
-
6
£1,880
CS (12)
[Add to shopping basket]
-
-
94
-
-
2007
Batard Montrachet, Leflaive, Domaine
Magnums
-
-
£4,300
CS (6)
[Add to shopping basket]
93
-
95
-
-
2011
Romanee St Vivant, Arnoux-Lachaux
Bottles
-
-
£4,400
CS (12)
[Add to shopping basket]
-
-
-
-
-
2010
Latricieres Chambertin, Arnoux-Lachaux
Bottles
1
-
£1,960
CS (12)
[Add to shopping basket]
-
-
93-95
-
-
2010
Chambolle Musigny Veroilles 1er Cru, Barthod, Ghislaine
Magnums
-
-
£1,500
CS (6)
[Add to shopping basket]
-
-
-
-
-
2011
Romanee St Vivant, Cathiard, Sylvain
Bottles
-
-
£13,500
CS (12)
[Add to shopping basket]
-
93-96
93-95
-
-
2010
Romanee St Vivant, Cathiard, Sylvain
Bottles
-
-
£17,600
CS (12)
[Add to shopping basket]
-
-
94-97
-
-
2010
Vosne Romanee Reignots 1er Cru, Cathiard, Sylvain
Bottles
-
-
£2,009
CS (12)
[Add to shopping basket]
-
-
-
-
-
2010
Nuits St Georges Cailles 1er Cru, Chevillon, Robert
Bottles
2
-
£1,100
CS (12)
[Add to shopping basket]
94-96
-
94
-
-
2011
Volnay Santenots du Milieu 1er Cru, Comtes Lafon
Bottles
-
-
£55
BT
[Add to shopping basket]
-
-
-
-
-
2010
Volnay Santenots du Milieu 1er Cru, Comtes Lafon
Bottles
-
-
£980
CS (12)
[Add to shopping basket]
-
94
94
-
-
2009
Volnay Santenots du Milieu 1er Cru, Comtes Lafon
Bottles
-
-
£75
BT
[Add to shopping basket]
95
-
91-93
-
-
2008
Volnay Santenots du Milieu 1er Cru, Comtes Lafon
Bottles
-
-
£65
BT
[Add to shopping basket]
-
95
-
-
-
2007
Volnay Santenots du Milieu 1er Cru, Comtes Lafon
Bottles
-
-
£60
BT
[Add to shopping basket]
-
92
91
-
-
2011
Grands Echezeaux, DRC
Bottles
-
-
£1,050
BT
[Add to shopping basket]
-
-
-
-
-
2010
Corton, DRC
Bottles
-
-
£780
BT
[Add to shopping basket]
-
-
93
-
-
2010
Richebourg, DRC
Bottles
-
-
£1,450
BT
[Add to shopping basket]
94-96
-
96
-
-
2009
La Tache, DRC
Magnums
-
-
£4,900
BT
[Add to shopping basket]
97
-
98
-
-
2011
Gevrey Chambertin Cuvee Coeur du Roy, Dugat-Py
Bottles
-
6
£1,160
CS (12)
[Add to shopping basket]
-
-
-
-
-
2010
Nuits St Georges Les St Georges 1er Cru, Gouges, Henri
Bottles
-
-
£1,200
CS (12)
[Add to shopping basket]
-
95
92-94
-
-
2010
Nuits St Georges Vaucrains 1er Cru, Gouges, Henri
Bottles
2
6
£990
CS (12)
[Add to shopping basket]
91
91-94
-
-
-
2011
Richebourg, Grivot, Jean
Bottles
-
-
£8,880
CS (12)
[Add to shopping basket]
97
-
95
-
-
2010
Richebourg, Grivot, Jean
Bottles
-
-
£725
BT
[Add to shopping basket]
-
-
-
-
-
2010
Vosne Romanee Reignots 1er Cru, Grivot, Jean
Bottles
-
-
£1,900
CS (12)
[Add to shopping basket]
-
-
-
-
-
2010
Richebourg, Hudelot-Noellat, Domaine Alain
Bottles
-
-
£6,000
CS (12)
[Add to shopping basket]
-
-
-
-
-
2010
Clos des Lambrays, Lambrays, Domaine des
Bottles
-
-
£1,980
CS (12)
[Add to shopping basket]
-
-
-
-
-
2011
Mazis Chambertin Cuvee Madeleine Collignon, Liger-Belair (Hospices de Beaune)
Bottles
-
-
£2,450
CS (12)
[Add to shopping basket]
-
-
-
-
-
2011
Nuits St Georges Boudots 1er Cru, Meo-Camuzet
Bottles
-
-
£950
CS (12)
[Add to shopping basket]
-
-
-
-
-
2011
Nuits St Georges Murgers 1er Cru, Meo-Camuzet
Bottles
-
6
£1,190
CS (12)
[Add to shopping basket]
-
-
-
-
-
2010
Corton Perrieres, Meo-Camuzet
Bottles
-
-
£1,800
CS (12)
[Add to shopping basket]
91-93
-
91-93
-
-
2010
Nuits St Georges Boudots 1er Cru, Meo-Camuzet
Bottles
-
-
£1,350
CS (12)
[Add to shopping basket]
90-92
94
92-94
-
-
2010
Nuits St Georges Murgers 1er Cru, Meo-Camuzet
Bottles
-
6
£1,450
CS (12)
[Add to shopping basket]
90-92
-
91-93
-
-
2010
Vosne Romanee Chaumes 1er Cru, Meo-Camuzet
Bottles
-
-
£1,600
CS (12)
[Add to shopping basket]
91-93
-
90-93
-
-
2009
Clos de Tart, Mommessin
Bottles
-
-
£3,400
CS (12)
[Add to shopping basket]
-
-
93
-
-
2009
Clos de Tart, Mommessin
Magnums
-
-
£3,300
CS (6)
[Add to shopping basket]
-
-
93
-
-
2011
Vosne Romanee Malconsorts 1er Cru, Montille, Domaine de
Bottles
-
6
£1,790
CS (12)
[Add to shopping basket]
-
-
-
-
-
2011
Vosne Romanee Malconsorts Christianne, Montille, Domaine de
Bottles
-
6
£4,980
CS (12)
[Add to shopping basket]
94
-
92-94
-
-
2010
Vosne Romanee Malconsorts 1er Cru, Montille, Domaine de
Bottles
-
-
£2,960
CS (12)
[Add to shopping basket]
-
-
-
-
-
2011
Gevrey Chambertin VV, Mortet, Denis
Bottles
-
-
£625
CS (12)
[Add to shopping basket]
-
91
-
-
-
2010
Gevrey Chambertin Lavaux St Jacques 1er Cru, Mortet, Denis
Bottles
-
-
£1,500
CS (12)
[Add to shopping basket]
92-94
95
-
-
-
2011
Chambolle Musigny Amoureuses 1er Cru, Roumier, Domaine Georges
Bottles
-
-
£1,280
BT
[Add to shopping basket]
-
-
-
-
-
2008
Chambolle Musigny Amoureuses 1er Cru, Roumier, Domaine Georges
Bottles
-
-
£1,300
BT
[Add to shopping basket]
95
-
93
-
-
2007
Chambolle Musigny Amoureuses 1er Cru, Roumier, Domaine Georges
Bottles
-
-
£825
BT
[Add to shopping basket]
92
-
93
-
-
2011
Charmes Chambertin, Rousseau
Bottles
-
-
£150
BT
[Add to shopping basket]
-
-
-
-
-
2011
Gevrey Chambertin Clos St Jacques 1er Cru, Rousseau
Bottles
-
-
£4,950
CS (12)
[Add to shopping basket]
-
96
94
-
-
2010
Charmes Chambertin, Rousseau
Bottles
-
-
£240
BT
[Add to shopping basket]
92-94
-
91-93
-
-
2010
Clos de la Roche, Rousseau
Bottles
-
-
£295
BT
[Add to shopping basket]
94-96
-
92-94
-
-
2010
Gevrey Chambertin Lavaux St Jacques 1er Cru, Rousseau
Bottles
-
-
£2,300
CS (12)
[Add to shopping basket]
90-92
-
90-92
-
-
2010
Mazis Chambertin, Rousseau
Bottles
-
-
£280
BT
[Add to shopping basket]
94-96
-
92-94
-
-
2009
Chambertin, Rousseau
Bottles
-
-
£17,800
CS (12)
[Add to shopping basket]
95
-
98
-
-
2009
Clos de la Roche, Rousseau
Bottles
-
-
£3,400
CS (12)
[Add to shopping basket]
-
-
-
-
-
2009
Gevrey Chambertin, Rousseau
Bottles
-
-
£1,400
CS (12)
[Add to shopping basket]
-
-
-
-
-
2009
Gevrey Chambertin Clos St Jacques 1er Cru, Rousseau
Bottles
-
-
£6,500
CS (12)
[Add to shopping basket]
91-94
-
93-96
17-18
-
2007
Chambertin Clos de Beze, Rousseau
Bottles
-
-
£600
BT
[Add to shopping basket]
-
-
95
-
-
2007
Clos de la Roche, Rousseau
Bottles
-
-
£2,700
CS (12)
[Add to shopping basket]
-
-
90-93
-
-
2006
Mazis Chambertin, Rousseau
Bottles
1
-
£3,500
CS (12)
[Add to shopping basket]
88
-
89-91
-
-