James Suckling on Bordeaux 2014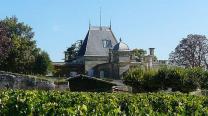 In his recent report on the in bottle 2014s, James Suckling proclaimed the vintage to be one of the biggest surprises of his career with many wines receiving generous upgrades to their score. Suckling believes the 2014s "may be the best value in Bordeaux since the 2008 vintage" and a few of his top performers are highlighted below. Please click here to see our full availability for Bordeaux 2014.

"wonderful, drinkable Bordeaux right out of the gate. The best wines, though, will improve with age for decades to come...The reds show harmony and finesse with solid cores of fruit and extremely polished tannins. There are no cabernet and merlot-based wines in the world with similar refinement and tension...What makes the 2014s even more appealing is their prices. This may be the best value in Bordeaux since the 2008 vintage"
James Suckling, February 2017
Suckling's report
follows close on the heels of Antonio Galloni's glowing praise for the vintage and the excellent value that can be found.
"Simply put, the finest 2014s are utterly magnificent and well worth seeking out... Most importantly, 2014 is a very consumer friendly year. The market for Bordeaux tends to divide between those vintages that are considered 'great' and are therefore subject to massive price speculation, and those that are 'average', which are seen as much less desirable by many marker constituents. This market dynamic creates a significant opportunity for savvy consumers to pick up any number of gorgeous wines at fair prices. Two thousand fourteen is an ideal vintage for consumers who buy wines to actually drink them (because prices should mostly be favorable)"
Antonio Galloni, February 2017
A Selection of James Suckling's Top Rated 2014s
100pts

Ausone

-"Phenomenal. Needs five to six years to open, but it's a joy to taste. Amazing. Such energy! From organically grown grapes as well. I am in awe."

99pts
Mouton Rothschild
- "Vibrant. A sexy style of Mouton."

99pts

Ducru Beaucaillou

- "Complex. Full-bodied, yet agile and complete. A dense center palate. Ultra-round tannins. Everything in the right balance. Wonderful to taste"

97pts

Grand Puy Lacoste

- "full-bodied with juicy tannins and a long, flavorful finish... Beautiful cabernet character, but already a joy to taste."

96pts
Canon
- "Full-bodied, tight and silky...Vibrant is the word."