NEW RELEASE: La Rioja Alta, 2007 Rioja Gran Reserva 904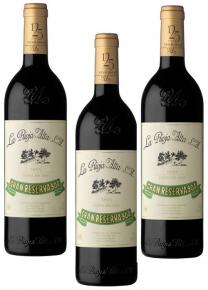 La Rioja Alta has today released their wonderful 2007 Gran Reserva 904, a wine which offers fantastic value for money! Made almost entirely from the Tempranillo grape, this cuvee is only released in vintages which La Rioja Alta deem exceptional.
The 2007 vintage was marked by exceptional late weather, providing wonderfully healthy, ripe grapes - fresh and pure in style, it has many years drinking ahead of it. Quantities produced are dramatically down for the 2007 release and allocations stricter this year, so please let us know asap if you wish to place an order.
"Great Rioja, as traditional as it gets, in good quantity and moderate (and often plain great) prices" Luis Gutierrez
"Quite simply, these are some of the finest Riojas that can grace your cellar" Neal Martin
---
2007 RIOJA GRAN RESERVA 904, LA RIOJA ALTA
"

Wonderful purity of fruit with a strawberry, currant and plum character. Full and velvety body with ultra-fine tannins and a delicious fresh and fruity finish. Classic Rioja style. Que lindo! Drink now."
97pts James Suckling, October 2016
"

This wants to be the classic Gran Reserva--polished, silky and elegant, with aging potential. It is a blend of Tempranillo with 10% Mazuelo aged for four years in well-seasoned American oak barrels, with eight manual rackings. I found that the freshness of the vintage and its relatively young age gave the wine a youngish character that I loved, combining developed notes of meat, spices, leather and balsam with almost cherry-like aromas. The palate feels balanced and elegant, with fine-grained and fully resolved tannins and great acidity. This vintage of 904 surprised me!"
95pts Luis Gutierrez, Wine Advocate, August 2016
---
Ready to deliver Spring 2017.

Wine offered In Bond (IB) excluding duty and VAT.

Offer subject to final confirmation. E&OE.

For enquiries please email the team