BORDEAUX 2011: Ausone, Leoville Las Cases, Clos du Marquis ...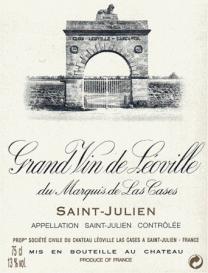 Today sees the release of Robert Parker's highest rated 2011 and the only one to receive a potentially perfect score (96-100). Parker believes Alain Vaulthier's Ausone 2011 is "one of the greatest wines he has produced...could turn out to be better than his 2009". The 2009 is currently on the market at £11,500 and we are able to offer the 2011, under half the the price, at £5500.

Also released today are the wines of top Second Growth Leoville Las Cases, undoubtedly one of the star performers of the vintage. Parker describes the Grand Vin as "One of the thrilling successes of the vintage", comparing it to the 2010. We can offer it at roughly half the price of the 2010 at £1040 per case. We were also impressed by the 2011 Clos du Marquis which is available at £330 per case. 90-93 from Parker who thinks it is a "A top-notch success".

Ausone - £5500 per case 12. 96-100 Robert Parker: "Not surprisingly, Alain Vauthier's 2011 Ausone is one of the greatest wines he has produced. I know this sounds impossible, but it is the reason why I spend so much time tasting and reflecting on what is in front of me. The 2011 could turn out to be better than his 2009 - sacre bleu! Probably the wine of the vintage, the 2011 exhibits a murky, inky, blue/purple color as well as an extraordinary nose of crème de cassis, plum sauce, crushed rocks (primarily chalk), acacia flowers and hints of graphite, truffles and damp forest floor. The riveting aromatics are followed by a wine that does not let the taster down in the mouth. Full-bodied with extraordinary purity, oozing richness and well-integrated velvety tannins, acidity, oak and alcohol, this is another superb achievement by Vauthier from this phenomenal site on the decomposed limestone hillsides of St.-Emilion. Possibly the longest-lived wine of the vintage, it should evolve for 30-40 years"

Leoville Las Cases - £1040 per case 12. 93-95+ Robert Parker: "One of the thrilling successes of the vintage is, not surprisingly, the 2011 Leoville Las Cases. Analytically, this ripe wine has statistical numbers that are almost identical to their 2010. The fruit was cropped at 27 hectoliters per hectare, the wine aged in 80% new French oak, and the final blend of 76% Cabernet Sauvignon, 12% Merlot and 12% Cabernet Franc came in at 13.4% natural alcohol. It boasts an opaque inky/purple color along with gloriously pure aromas of creme de cassis, black raspberries, vanillin and crushed rocks. Medium to full-bodied with abundant glycerin and ripe but noticeable tannin, this beauty is potentially one of the longest lived and finest wines of the vintage. It should be drinkable in 5-6 years and last for 2-3 decades"

Clos du Marquis - £330 per case 12. 90-93 Robert Parker: "A top-notch success that tips the scales at 13.6% natural alcohol, this blend of 65% Cabernet Sauvignon, 22% Merlot and 13% Cabernet Franc was cropped at only 27 hectoliters per hectare. Representing 40% of the entire production, this is a seriously endowed, deep purple-colored 2011 with lots of pure crème de cassis and black cherry liqueur notes intermixed with notions of cedar, vanillin and spice box. With good acidity, ripe tannin and surprising concentration as well as depth, this classic St.-Julien has once again over-performed."
---
All wines offered en primeur; available in the UK Spring/Summer 2014. Prices include shipment from Bordeaux warehouse to the UK. Offer subject to remaining unsold. E&OE.
> For enquiries and orders, please email us.